Photographer: Peter Wittich/Flickr
The Priciest Ivy League College Will Cost You $63,000 a Year
Expect to pay up to 4 percent more in tuition and fees for the 2014-15 academic year at most Ivies
By
College tuition is outpacing inflation across the board, a phenomenon even the Ivy League and its fat endowments can't escape. Next year, tuition will rise an average of 3.76 percent at the Ivies—pushing the cost of attendance as high as $63,000.
Most Ivy League schools have announced costs for the 2015-16 academic year (Columbia University and Harvard University are the holdouts and are expected to release tuition rates in the coming weeks).
Students attending Brown University will absorb the steepest hike. The cost of classes for the Providence (R.I.) school will rise to $48,272 from $46,408, a 4 percent increase, for the 2015-16 academic year. On the bottom end, Dartmouth College in Hanover, N.H., is raising tuition 2.9 percent, to $48,120 from $46,763. While the hike still leaves the school's tuition in the midrange of the Ivies, it marks the lowest tuition hike in almost four decades for Dartmouth, according to the university.
The rest of the schools appear to be continuing efforts to flirt with the 4-percent line without crossing over it. Cornell University, Yale University, the University of Pennsylvania, and Princeton University are each raising tuition about 3.9 percent next year. Once you add in room and board and mandatory fees, it will set students without financial aid back as much as $63,000 to attend an Ivy League next year.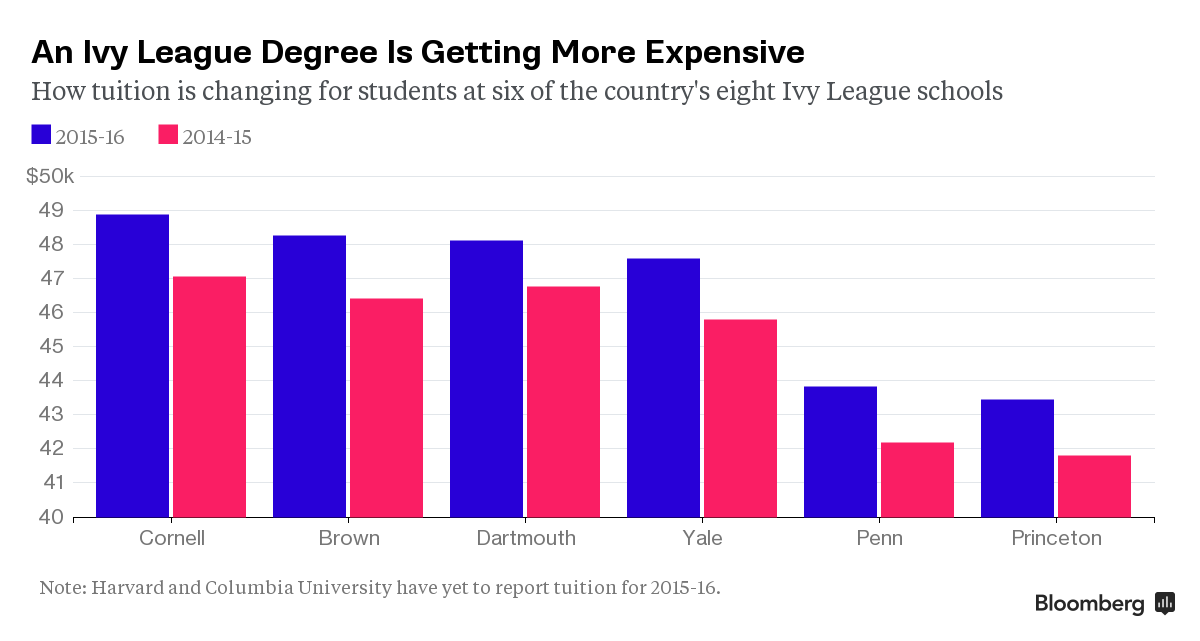 Despite the painful sticker prices, an Ivy League degree can still end up being cheaper than what it would cost to graduate from a public university. Sitting on massive endowments, many Ivies can afford to dole out financial aid packages that essentially cancel out hikes in tuition. Princeton, for instance, said when announcing tuition rates for 2015-16 that it will also increase scholarships for students whose families can't afford the full sticker price. 
Of course, not all families will benefit from generous aid packages. With rising tuition a perennial sore point, several school officials sought to reassure families that they're trying to cap costs. "Keeping the rise in tuition below 4 percent for most undergraduates reflects our best efforts to be fiscally responsible while assuring a rich and complex undergraduate education and experience," said Harry Katz, Cornell's interim provost, in a statement accompanying the university's tuition announcement.
Others sent a simple message: They get it. "As the first in my family to attend college, I understand the far-reaching impact a college education can have," Penn President Amy Gutmann said in a statement accompanying Penn's tuition announcement.