Swiss Franc Defense Team Awaits Swimming Star Maechler at SNB
Catherine Bosley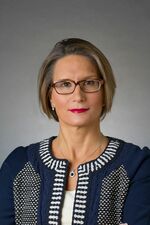 Wanted: Strong swimmers to help navigate the turbulence of Switzerland's currency policy.
At least that's how it seems with the latest appointment to the Swiss National Bank's governing board. Andrea Maechler, who will oversee foreign exchange reserves, ranks among the 100 all-time greatest Swiss female swimmers. Currently working at the International Monetary Fund, her move to Zurich in July comes at a particularly pivotal time for the central bank, just months after it unleashed a market tsunami by giving up its franc cap.
Biographically, Maechler's first steps are similar to those of her SNB predecessor Philipp Hildebrand. Both attended the University of Toronto and Geneva's Graduate Institute. They also had two swimming coaches in common.
"It's very interesting they followed the same path," said Byron MacDonald, swimming coach at the University of Toronto since 1978, where he trained both future central bankers. Maechler stood out for her work ethic, he said. "Whatever she was going to achieve was going to be through hard work -- she's not intimidated by a man's world."
In joining the century-old institution, Maechler is writing history. Appointed in December, when the cap of 1.20 per euro was still in place, Maechler will be the first woman on its three-member board. The SNB, led by President Thomas Jordan, will hold its next quarterly interest rate decision on March 19.
She will run the department that looks after the SNB's half a trillion dollars of currency reserves. Roughly a third of the central bank's employees are women, and there is just one woman among the 43 managers of Maechler's future division, according to its website.
SNB Interventions
Born in 1969 and having grown up in Switzerland's French-speaking region, Maechler is deputy division chief at the IMF's monetary and capital markets department, having previously worked at the Organisation for Economic Co-operation and Development and the European Systemic Risk Board.
That experience analyzing capital markets and assessing risks will prove useful in her new role leading department III, which includes overseeing the team that wages currency market interventions. Since giving up the franc cap, SNB policy makers have repeatedly pledged to intervene if necessary. Investors have speculated the institution, based in Zurich and Bern, could make good on that threat.
Like Maechler, Hildebrand began his SNB career in the third department, having previously worked for a hedge fund and two private banks. It was under his watch as president that the SNB set its franc ceiling in 2011.
The franc, which has gained nearly 13 percent against the euro this year, was little changed at 1.0653 per euro at 1:00 p.m. in Zurich. Against the dollar, it was at 1.001.
Coaching Memories
At club Geneve Natation 1885, a 1960s-era concrete building where Hildebrand and Maechler trained, often 10 times a week and as early as 6 a.m., retired coach Anthony Ulrich remembers both swimmers.
"They both have the drive to succeed," he said. "They're both very open, multilingual, easy communicators."
Maechler, who declined to be interviewed for this article, became Swiss women's champion the 200-meter butterfly and the 200-meter medley in 1986.
"She fixed goals and worked hard to achieve them," said Ulrich, who doesn't think the two knew each other as swimmers.
So is the SNB getting another Hildebrand, who ran afoul of Switzerland's right-wing politicians for what they regarded as an Anglo-Saxon, showman-like manner?
"I wouldn't read too much about these biographical points," said Janwillem Acket, chief economist at Julius Baer Group Ltd. in Zurich, adding Maechler had a "very good" reputation. "She's starting with the third department, which is a tricky one, given the strength of the franc, and she'll have to earn her first spurs -- but she's got a great team, which has already weathered several storms."
Capable, Smart
Maechler's doctoral dissertation didn't necessarily indicate a future in central banking. "When Good Economics Makes Good Politics: Three Essays" investigated the impact of a carbon tax, while research papers looked at employment policies or trade liberalization and its environmental impact.
"She is a very intelligent, pragmatic economist who can combine her deep insights with her technical skills," said K.C. Fung, professor of economics at the University of California, Santa Cruz, and Maechler's dissertation adviser. "Andrea is very capable, very smart, very competitive -- in a good way -- and of course very achievement-oriented."
At the SNB, whose Zurich headquarters overlook the city's picturesque lake, or among global policy makers, Maechler is unlikely to find herself a fish out of water. SNB President Jordan played water polo as a youth, while IMF Managing Director Christine Lagarde went for synchronized swimming.
Best Stroke
As for Hildebrand, whose best swimming stroke was freestyle and who is now vice chairman of BlackRock Inc. he resigned in 2012 amid a furore over a currency purchase of $504,000 by his wife just weeks before the SNB imposed its ceiling on the franc.
Within the Swiss institution, Hildebrand was regarded as the odd-one-out among Switzerland's usually dry policy makers, too internationally high profile to be a consensus builder within the staid institution. His background as a swimmer, rather than playing a team sport like soccer, was seen as confirmation of this trait.
"With Andrea, I think she was a good team player but she wouldn't get pulled down if someone else wasn't pulling their weight," MacDonald said. "That's a great strength."
Before it's here, it's on the Bloomberg Terminal.
LEARN MORE