Sabadell's $2.5 Billion Move for U.K.'s TSB Sends Stock Tumbling
Richard Partington and Macarena Munoz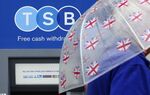 Banco de Sabadell SA made a surprise push into British consumer banking with a 1.7 billion-pound ($2.5 billion) approach for TSB Banking Group Plc that sent the Spanish lender's shares down by the most in 14 years.
Sabadell, the country fifth-biggest bank, is proposing to pay 340 pence a share in cash for TSB, 29 percent more than Wednesday's closing price. Sabadell fell as much as 12 percent in Madrid, before paring its losses to 7 percent, while TSB jumped the most since its June initial public offering.
"This is a major change of strategy for Sabadell," Antonio Hormigos, head of investment management at Mirabaud Asset Management in Barcelona, said by telephone. "Up to now, it has been focusing on the domestic Spanish market, and this perplexing move causes uncertainty."
Sabadell is trying to expand into an economy that last year grew at the fastest pace since 2007, fueling housing demand across the nation. That's already helped bolster the earnings of Spanish competitor Banco Santander SA, which acquired Abbey National in 2004. Even so, Britain's $1.2 trillion mortgage market is slowing as net lending and new mortgage lending decline, according to Bloomberg Intelligence.
"Sabadell's bid for TSB, if successful, would increase competitive pressures," said Jonathan Tyce, senior banks analyst at Bloomberg Intelligence in London. "Falling deposit costs have boosted U.K. banks' net interest margins in recent quarters. This expansion may slow or reverse should lending spreads narrow as lenders vie for growth."
Lloyds Willing
TSB's former parent, Lloyds Banking Group Plc, which still owns 50 percent of the bank, said it's "minded" to accept Sabadell's indicated offer, according to a statement.
A sale would also allow Lloyds to exit its remaining holding in TSB before the end of 2015, a deadline set by European regulators in return for approving its rescue during the financial crisis. Under U.K. takeover rules, Sabadell has until April 9 to reach an deal or pull out.
"TSB looked to be a cheap bank, it's well capitalized with a good distribution network," said Gary Greenwood, an analyst with Shore Capital Group Ltd. in Liverpool, England, who has a buy recommendation on the shares. "It's also a great solution for Lloyds."
Lloyds rose as much as 2.4 percent and was up 1.4 percent at 79.22 pence as of 1:18 p.m. in London. TSB jumped 25 percent to 329 pence. Sabadell was down 7 percent at 2.31 euros in Madrid. Citigroup Inc. and Rothschild are advising TSB, while Goldman Sachs Group Inc. is working with Sabadell.
Capital Needed
Sabadell may have to raise to capital following the TSB deal, David Vaamonde, bank analyst at Main First Bank in Madrid, said in a note to clients. "We would rather prefer to see Sabadell just focusing on Spain rather than conducting this sort of acquisition," he said.
Sabadell is seeking to expand further outside Spain after buying domestic lenders such as such as Caja de Ahorros del Mediterraneo during the country's banking crisis, CEO Jaime Guardiola said in an interview last month. The lender raised capital in 2013 in a share sale and passed the European Central Bank's health-check in October. It also acquired Lloyds's money-losing Spanish consumer bank in April 2013.
Officials at Sabadell declined to comment beyond a statement that confirmed the offer. The bank is paying about 4 percent more than the value of TSB's net assets, according to analysts at Shore Capital. TSB is also entitled to receive a 450 million-pound payment from Lloyds to help fund the separation of its computer systems and their integration with another bank's operation.
U.K. Market
The Spanish bank is plotting to enter a market that has already benefited Santander, whose U.K. unit generated 1.6 billion euros of profit in 2014, the most among its 10 global divisions.
TSB has been taking customers from the four biggest lenders that together control as much as 80 percent of the U.K. market. The bank attracted 8.4 percent of all new and switching bank accounts in 2014, above its target of 6 percent. Chief Executive Officer Paul Pester told reporters last month he's confident that the bank will be able to expand its loan book by 40 percent to 50 percent within five years of the IPO.
It's still a minnow compared with Lloyds, Barclays Plc, Royal Bank of Scotland Group Plc and HSBC Holdings Plc, Britain's so-called big four high street banks. TSB has about 4.6 million U.K. customers and 27.2 billion pounds of assets, compared with 30 million clients and 855 billion pounds of assets at Lloyds, Britain's biggest mortgage lender.
Before it's here, it's on the Bloomberg Terminal.
LEARN MORE