Russia Seeks to Calm Speculation as Putin Meetings Scrapped
Ilya Arkhipov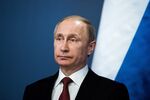 President Vladimir Putin's spokesman brushed off speculation about the Russian leader's health after domestic meetings and a foreign trip were scrapped or delayed.
"He has meetings constantly because of the very tense situation economically and internationally," Dmitry Peskov said by phone on Thursday. Putin is in good health, the Kremlin spokesman said.
Putin, 62, who hasn't made a public appearance since talks with Italian Prime Minister Matteo Renzi on March 5, canceled several public meetings at home this week and delayed a planned summit in Kazakhstan, according to two officials. The president maintains constant contact with the government, banks and state companies, Peskov said.
The Russian markets have remained unperturbed even as Putin's disappearance sparks the most speculation about his health in more than two years. He scrapped or postponed five foreign trips during more than a month in late 2012 as officials including Prime Minister Dmitry Medvedev repeatedly denied that he was ill or undergoing treatment for back pain. Putin, a black-belt in judo celebrated at home for his physical prowess, has cultivated an image of toughness with photo shoots of him riding bare-chested on a horse, fishing, and posing with wild animals including a tiger and polar bear.
'Bad Mood'
Government bonds gained, pushing yields to the lowest in almost three weeks, and the ruble appreciated 1.6 percent against the dollar to 60.640 as of 3:15 p.m. in Moscow. The Micex Index retreated 0.32 percent to 1,666.05, while the MosPrime overnight rate dropped to 15.2 percent, the lowest since Feb. 9.
The president's sudden disappearance from the public eye is unusual, said Gleb Pavlovsky, a former Kremlin political adviser to Putin. It may be linked to health problems or a desire to "hide in a hole and look from there who is doing what in a moment of crisis," he said.
"It's clear that he has been in a very bad mood since the murder of Boris Nemtsov," Pavlovsky said, referring to the opposition leader who was shot dead close to the Kremlin on Feb. 27. "And his mood has been getting worse while the investigation goes on. Maybe he learnt something that he doesn't like at all."
Soviet Memories
Putin had no plan to take part Thursday in the annual meeting with top officers at the FSB, the successor to the KGB that Putin once ran, according to Peskov. During his presidency Putin didn't miss an FSB annual gathering. The president spoke at a similar Interior Ministry meeting last week, days after Nemtsov, a former deputy prime minister, was killed.
Russians grew used to guessing about the health of their leaders in the Soviet era, especially in the 1980s when three Communist Party chiefs died in quick succession, and during President Boris Yeltsin's increasing feeble grip on power in the 1990s.
Putin spoke by phone on Thursday to Armenian President Serzh Sargsyan, the Kremlin said in a statement on its website. The two leaders discussed integration issues and planned meetings, according to the statement.
Peskov said that Putin's meeting with Kazakh President Nursultan Nazarbayev and Belarusian President Aleksandr Lukashenko was postponed from this week by mutual agreement. The RIA Novosti news service cited Peskov on Thursday as saying the meeting may be held next week.
No reason was given for Putin's recent cancellations, according to the officials, who asked not to be identified as discussing the president's schedule. Putin is "absolutely" in good health, Peskov told Bloomberg on Wednesday, declining to comment further.
Peskov told reporters to "bite your tongue" in October last year as he denied a New York Post report that the president may have cancer, according to RIA Novosti.
Before it's here, it's on the Bloomberg Terminal.
LEARN MORE