No Steaks for Russia as Oil Rout Erodes Demand: Corporate Brazil
Gerson Freitas Jr.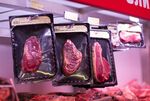 The ripple effect of crude's crash is reaching ranches in Brazil as oil-producing countries from Russia to Venezuela buy less meat.
Brazilian beef shipments abroad fell 31 percent in the first two months of the year, according to government data compiled by Bloomberg. Sales to Russia, Venezuela and Iran, which accounted for almost 50 percent of Brazilian beef exports a year ago, now represent one-fifth after posting the biggest decline. That's making Brazilian meatpackers Minerva SA and Marfrig Global Foods SA the worst performers among global peers.
Brazil's best beef customers are buying less and demanding discounts after crude prices slumped the most since 2008 and emerging-market currencies weakened, Bradesco BBI SA said. Producers in Brazil don't have the health clearance to ship fresh meat to the U.S., Japan and South Korea, making them dependent on oil-producing countries. For Marfrig and Minerva, the deterioration in the overseas market follows a domestic decline last year in line with a slowdown in the economy.
"It's very bad news for the industry," Gabriel Vaz de Lima, a Bradesco analyst who has the equivalent of hold recommendations on the two stocks, said by telephone from Sao Paulo. "Exports are no longer saving the day."
Share Drop
Minerva and Marfrig, which account for about 40 percent of Brazil's beef exports, lost 23 percent and 31 percent, respectively, this year. That's the worst performances among 15 global peers tracked by Bloomberg.
Sao Paulo-based JBS SA rallied 17 percent. JBS, the world's biggest meat exporter, is less exposed to oil-driven economies because it gets most of its revenue from U.S. operations that have approval to ship to prime beef markets like Japan and South Korea.
"We are going to see some price pressure in beef margins in Brazil," Wesley Batista, chief executive officer of JBS, told investors on an earnings conference call Thursday. "Fortunately, our diversification in terms of geography and segments gives us the opportunity to have more stable earnings even with this challenge."
JBS reported a 26 percent increase in fourth-quarter sales, beating the average estimate of analysts tracked by Bloomberg.
Russian President Vladimir Putin's decision to ban farm imports from the U.S. and Australia and approve 87 Brazilian meat plants for export last year spurred anticipation that Brazil would increase exports there. Instead, Brazilian shipments to Russia fell 56 percent to the lowest since 2005.
A 50 percent plunge in oil prices and sanctions over the conflict in Ukraine have sparked Russia's worst currency crisis since a 1998 default and pushed the economy into recession. The ruble is the world's second-worst performing currency in the past year with a 34 percent decline 61.6656 per dollar.
Declining Inventories
"It's a moment for adjustment," Mauricio Nogueira, a beef analyst at Agroconsult, said by phone from Florianopolis, Brazil. "The market is adapting to an economy with lower oil prices"
While Russia is expected to gradually resume purchases as inventories decline, sales probably won't return to last year's levels, Minerva Chief Executive Officer Fernando Galletti Queiroz said.
"They are buying cheaper cuts now," Queiroz said in a conference call with reporters last week.
Minerva is seeking to divert some beef that would have gone to Russia, its main purchaser, to countries including Chile and Egypt.
Marfrig also sees Russian demand improving in coming months as the country rebuilds inventories.
"Russia demand for beef still exists," Chief Executive Officer Martin Secco Arias told investors March 9 in London.
Prospects are gloomier for Venezuela, where inflation reached 69 percent in December and the economy is set to contract 7 percent this year, Secco said.
"It's more a question mark than Russia," he said. "The market has stopped."
Before it's here, it's on the Bloomberg Terminal.
LEARN MORE