Nabiullina Splits Goldman to BofA on Size of Russian Cut
Olga Tanas and Anna Andrianova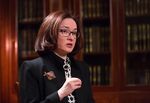 Goldman Sachs Group Inc., Credit Suisse Group AG and Bank of America Corp. agree Russia's central bank will cut interest rates today. Where they disagree is how much.
While Goldman Sachs envisages a 100 basis-point reduction to 14 percent, in line with a Bloomberg survey, Bank of America is forecasting a cut twice as big, with Credit Suisse seeing the benchmark lowered by 2.5 percentage points. Derivatives traders also see borrowing costs falling, forward-rate agreements show.
Investors are struggling to divine how deep a reduction central bank Governor Elvira Nabiullina will deliver at Friday's meeting after surprising markets in January by cutting the benchmark rate by 200 basis points, when no change was predicted. A recovering ruble and slowing weekly inflation have opened the way for further easing, which could help resuscitate an economy set for its first recession in six years.
"The direction is obvious, the question is how much?" Konstantin Artemov, a money manager at Raiffeisen Capital Asset Management, which oversees the equivalent of about $270 million in Moscow, said by e-mail Thursday. "Everybody understands that it's a hard time for the economy and that rates should be lower."
Since Nabiullina's unexpected cut on Jan. 30, oil, Russia's main export earner, rebounded 8 percent and a cease-fire took hold in eastern Ukraine. Inflation, which soared to a 13-year high of 16.7 percent in February, started slowing on a weekly basis. Price increases in the weeks ended March 10 and March 2 fell to four-month lows of 0.2 percent.
Room to Ease
That's giving the governor and her new first deputy in charge of monetary policy, Dmitry Tulin, room to unwind the emergency 650 basis-point rate increase that took borrowing costs to an 11-year high of 17 percent in December.
The ruble has been resilient in the face of projections for deeper interest rate cuts this month. The currency rose as much as 2.2 percent on Thursday even after Goldman Sachs and Credit Suisse said local-currency debt wasn't reflecting the scale of rate cuts, while Royal Bank of Scotland Group Plc said a 400 basis-point reduction was becoming more likely.
"If market sentiment permits the central bank to cut the rate without a sharp ruble weakening, the regulator will do just that," Dmitry Postolenko, money manager at Kapital Asset Management LLC, said by phone Wednesday.
Jump-starting Economy
Pushing ahead with the rate-cut cycle will enable policy makers to put more priority on jumpstarting the economy and pulling loan growth from four-year lows. Banks in Russia have been blocked from global debt markets by sanctions that are hobbling consumer spending and choking investments.
The government forecasts gross domestic product will drop 3 percent this year in the worst performance since the 2009 recession.
The January U-turn on rates came after Tulin assumed the role in place of Ksenia Yudaeva in the biggest leadership change since Nabiullina took charge in June 2013.
Alexey Tverdohleb, a fixed-income trader at Bank Zenit in Moscow, says the January move, which caught 31 of the 32 economists polled by Bloomberg unaware, means the central bank could surprise again.
"The last meetings show that the central bank has the capacity to take a decision that runs counter to market expectations," Tverdohleb said by e-mail Thursday. "It can't be ruled out that this time the central bank may keep the rate at the current level."
Trader Bets
Traders are expecting bigger cuts than economists. While the median estimate of the 32 analyst polled by Bloomberg was for a reduction of 100 basis points, a separate survey of 61 traders by the Tradition brokerage showed more than half predicting a bigger cut.
The ruble slid 0.2 percent to 61.32 per dollar by 11:58 a.m. in Moscow on Friday, bringing its advance in the past month to 6.4 percent, the most among 24 developing countries tracked by Bloomberg. The appreciation is easing pressure on inflation, which analysts surveyed by Bloomberg expect will peak this quarter before falling to 11.5 percent by year-end and 7.9 percent in the first three months of 2016.
"Given we're unlikely to have the same factors in the future, inflation will naturally be lower," Evgeny Kochemazov, the head of fixed income at Alfa Capital in Moscow, who predicts a cut by 100-150 basis points. "There is no reason to keep the rate at such a high level, which is actually halting effective lending and isn't supporting the economy."
Before it's here, it's on the Bloomberg Terminal.
LEARN MORE