Manhattan Studios Set Rent Record as Tenants Go Small
Oshrat Carmiel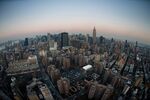 Manhattan's smallest apartments are fueling big gains in rents.
The median rent in the borough jumped 8.9 percent last month to $3,375, according to a report Thursday by appraiser Miller Samuel Inc. and brokerage Douglas Elliman Real Estate. Costs for studio apartments climbed 10 percent to a median $2,351, while rents for one-bedrooms rose 9.4 percent to $3,400, both the highest in more than seven years of record-keeping.
New York's smaller apartments are luring new tenants entering an improving job market in the city, as well as those who can't afford bigger homes. Would-be buyers who have been shut out of owning because of high prices and tight credit are also lingering as renters.
"The studio and one-bedroom market is the more common jumping-off point for first-time buyers," said Jonathan Miller, president of Miller Samuel and a Bloomberg View contributor. Rents are rising "because of the logjam that has been created by people who have either been priced out of the purchase market or don't qualify for a mortgage."
Manhattan apartment prices jumped to the highest since their 2008 peak in the fourth quarter as buyers competed for a limited supply of homes. Demand was greatest for one-bedroom apartments, which accounted for 38 percent of all sales last quarter, Miller said.
A strengthening job market is also fueling housing demand. New York City's private sector added 112,300 jobs in the 12 months through January, and the unemployment rate fell to 7.1 percent that month from 8.3 percent a year earlier, the New York State Labor Department said Tuesday.
More Affordable
While employment is improving, incomes aren't rising as fast as Manhattan rents, leading tenants to seek affordability by finding smaller spaces, Gary Malin, president of brokerage Citi Habitats, said in an interview.
"Smaller apartments are drawing more attention because there's more of an appetite for those price points if there's only a certain amount of money you can afford to spend," Malin said.
Citi Habitats, which also released a report today on the Manhattan rental market, said the average rent for a studio increased 5 percent in February from a year earlier to $2,150. Rents for one-bedroom units climbed 3 percent to $2,893.
Rents declined at the higher end of the market. Two-bedroom units fell 2 percent to $3,957, and three-bedrooms dropped 1 percent to $5,133, Citi Habitats said.
West Village
In the West Village, among Manhattan's most expensive neighborhoods, average rents for three-bedroom apartments fell 2.4 percent last month to $5,895, while two-bedroom rents declined 5.2 percent to an average of $4,600, according to Citi Habitats data.
At Manhattan rental buildings owned by Related Cos., such as Abington House and MiMA Tower, studios and one-bedrooms have been renting at a faster pace than two- or three-bedroom units as the job market has improved, said Daria Salusbury, a senior vice president at Related who oversees luxury rental leasing.
"When people are entering Manhattan and entering the job market, they're not going to be renting a two-bedroom apartment," Salusbury said.
Brooklyn, Queens
In Brooklyn, where overall rents in February fell for the first time in five months, prices gained for studios and one-bedroom units, Miller Samuel and Douglas Elliman said. The median rental price of studios increased 0.9 percent to $2,281 while one-bedroom units jumped 8 percent to $2,863.
The Brooklyn report includes the neighborhoods in the north, northwest and eastern parts of the borough.
In northwest Queens, where newly built luxury apartment towers are adding thousands of units to the market, median rents were unchanged in February from a year ago, at $2,600.
The biggest rent gains in the Queens neighborhoods of Long Island City, Astoria, Sunnyside and Woodside were for apartments with three or more bedrooms, Miller Samuel and Douglas Elliman said. Rents for those larger apartments climbed 62 percent in February to a median $5,356.
Before it's here, it's on the Bloomberg Terminal.
LEARN MORE