Lira's Slump Seen Softening Erdogan Tone on Rates
Constantine Courcoulas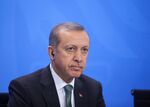 The lira is rallying as traders bet Turkish President Recep Tayyip Erdogan is going to end his public attacks on the central bank over monetary policy.
The lira's first back-to-back gain in more than three weeks was accompanied by the first drop in two-year yields in seven days, according to data compiled by Bloomberg. The central bank will keep rates unchanged next week amid an acceleration of inflation in February and reduced tension with the government, according to the median forecast in a survey of economists by Bloomberg. Cuts will probably resume subsequently, said Philippe Dauba-Pantanacce at Standard Chartered Plc.
Speculation is growing the political pressure will ease after Wednesday's meeting, at which Erdogan's "sensitivity" over rates was addressed, according to his office. The president had previously said higher borrowing costs were stoking inflation, while questioning central bank Governor Erdem Basci's loyalty to the nation. The lira slid to records four days this month amid concern that central bank independence was being undermined.
"Recent pressures on the lira reached a point that enabled the pragmatists to convince Erdogan that pressuring the central bank would most likely achieve the opposite of his goal," Dauba-Pantanacce, an economist at Standard Chartered in London, said by e-mail on Thursday. "This week represents a turn and could well mean that Basci will be allowed to let interest rates stay put at the next meeting."
Softer Rhetoric
While the central bank lowered its key rate by 250 basis points to 7.5 percent since May, politicians have pressured Basci for deeper reductions to support the economy as the country heads for elections in June. The rate was more than doubled to 10 percent at an emergency meeting in January 2014 to arrest the lira's slide to a then-record 2.39.
The pressure leaves Turkish assets more vulnerable to outflows from emerging markets as the U.S. moves closer to raising interest rates for the first time since 2006, damping demand for riskier assets. The lira weakened to an all-time low 2.6475 on March 6 and has declined 10 percent this year. A gauge of developing-nation currencies is 6 percent lower in 2015.
The meeting between Erdogan and Basci came as Turkish politicians began toning down their rhetoric this week. The central bank is independent in the tools it uses to carry out monetary policy and has had a good track record since 2002, the prime minister's office said after an hours-long summit on the economy on Tuesday.
Different opinions shouldn't overshadow the central bank's independence and its successful performance, Economy Minister Nihat Zeybekci said on Wednesday, the state-run Anadolu news agency reported.
The lira fell 0.3 percent to 2.5928 per dollar at 10:58 a.m. in Istanbul. The yield on two-year government notes decreased three basis points to 8.83 percent.
Green Light
"The statements from ministers this week suggest that they don't want to unsettle the market at this stage, which in turn should give Basci the green light to do what is reasonable next week," Cristian Maggio, head of emerging-market research at Toronto Dominion Bank in London said by e-mail. Maggio expects the bank to keep rates unchanged next week.
The market is overestimating the truce between Basci and Erdogan, according to Bank of America Merrill Lynch.
"They've just agreed to disagree and President Erdogan is unlikely to back-step from his incessant call for lower rates," Turker Hamzaoglu, a London-based economist at the bank, wrote in an e-mailed note on Thursday.
Erdogan told Basci that interest rates need to be pulled lower in order for Turkey to move to a "new production-focused economy," Yigit Bulut, chief adviser to the president, said in an interview on AHaber, as reported by Star newspaper on Thursday.
Slowing Growth
With or without political pressure, there are good reasons for the central bank to lower interest rates. Turkey's economic growth probably slowed to 3 percent last year from 4.1 percent in 2013, according to the median of 29 economist forecasts compiled by Bloomberg.
A report last week showed core inflation, which excludes food and fuel, dropped for a seventh straight month in February. Brent crude's 50 percent drop from last year's June high is helping to narrow the current-account gap in a country that imports more than 90 percent of its oil.
The central bank is unlikely to cut in March "given what's happening on the exchange rate and given the markets are nervous," Selim Cakir, chief economist at Turk Ekonomi Bankasi AS, said by phone on Thursday. "But April and onwards if the exchange rate is stable, the central bank is likely to turn dovish in light of the sluggish growth outlook."
Before it's here, it's on the Bloomberg Terminal.
LEARN MORE