Jets Acquire Quarterback Fitzpatrick; Dolphins Sign Suh
Michael Sillup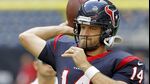 The New York Jets said they had acquired quarterback Ryan Fitzpatrick from the Houston Texans, who signed free-agent quarterback Brian Hoyer on the second day on which teams could announce trades and signings.
The Miami Dolphins on Wednesday introduced free-agent signee Ndamukong Suh, whom they signed to a six-year contract, while the Indianapolis Colts said they had signed seven-time Pro Bowl receiver Andre Johnson.
Fitzpatrick, 32, who played for Harvard University, started 12 games for Houston last season, passing for 2,483 yards with 17 touchdowns and eight interceptions. The Texans will receive a conditional late-round draft pick, ESPN reported.
Hoyer, 29, got a two-year deal worth $10.5 million from the Texas, ESPN said. Hoyer made 13 starts for the Cleveland Browns last season.
ESPN reported that Suh, 28, a four-time Pro Bowler who spent his first five National Football League seasons with the Detroit Lions, will get $114 million from the Dolphins -- a record for a defensive player.
Johnson, 33, caught 1,012 passes for 12,597 yards and 64 touchdowns in 12 years with the Texans before being released on Monday and moving to the Colts.
Before it's here, it's on the Bloomberg Terminal.
LEARN MORE