Fuel-Thirsty California Takes Tankers From East Canada, Asia
Lynn Doan and Dan Murtaugh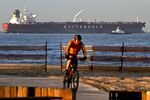 Fuel producers in California, facing plant outages and upsets that are squeezing supplies, are looking as far off as Asia and eastern Canada for reinforcements.
A tanker carrying refined products such as gasoline, diesel and jet fuel was bound for Los Angeles on Wednesday after loading at the Point Tupper terminal in Nova Scotia, shipping data compiled by Bloomberg show. At least seven other fuel tankers were headed to the U.S. West Coast after leaving Asia, the data show.
Tankers are bound for California after a spate of refinery shutdowns that propelled the premium for the state's special blend of gasoline to a seasonal record. Pump prices surged by the most ever, making California home to the most expensive fuel in the U.S.
"Due to U.S. refinery outages, Korea has had export opportunities of Carbob to the U.S. West Coast," Harry Tchilinguirian, BNP Paribas SA's London-based head of commodity markets strategy, said in a research note on Wednesday.
Spot gasoline in Los Angeles traded at a 19-cent-a-gallon premium over futures on the New York Mercantile Exchange on Thursday, the biggest seasonally since Bloomberg began assessing pricing there in November 2007. The fuel surged to as high as 65 cents a gallon over futures late last month on speculation that refinery outages would curb local supplies.
An explosion at Exxon Mobil Corp.'s Torrance refinery near Los Angeles and the shutdown of Tesoro Corp.'s Golden Eagle refinery near Martinez in Northern California have both "created arbitrage opportunities" on the West Coast, New York-based Poten & Partners Inc. said in a report March 6.
Sending Carbob
The tanker Estia was expected to reach Los Angeles by March 27 after leaving Point Tupper with as much as 500,000 barrels of fuel, shipping data compiled by Bloomberg show. Irving Oil Ltd.'s Saint John refinery in New Brunswick markets Carbob to California, home to the strictest fuel emissions standards in the U.S., the company said on its website.
NuStar Energy LP operates a 7.5 million-barrel oil and petroleum products terminal at a former refinery site in Point Tupper. It can handle the world's largest tankers.
California used to require more frequent imports, said Andy Lipow, president of Lipow Oil Associates LP in Houston and a former trader at Vitol SA. The state's gasoline demand has waned in the last decade and U.S. refiners have raised their own production because of cheaper crude and natural gas costs.
"Years ago, I brought barrels into California from Europe and Asia," Lipow said. "We haven't seen it in a number of years as West Coast refiners have been able to satisfy the demand."
Three Tankers
At least three tankers were scheduled to load jet fuel in March for delivery to the U.S. West Coast from Korea, India and China, ship-fixture data compiled by Bloomberg show. Tanker Res Cogitans was near Los Angeles on Wednesday after leaving South Korea last month. The Pine Galaxy was off the coast of San Francisco after leaving Asia.
The Stolt Spray and the Maersk Miyajima were both bound for Los Angeles after leaving Asia this month. A ship takes about 15 days to go to Los Angeles from Ulsan, South Korea, according to SeaRates.com, an online freight exchange.
Noble Group Ltd. had an option on tanker Ipanema Street to ship California-blend gasoline, known as Carbob, to the West Coast from Pembroke, U.K., the fixtures show. Stephen Brown, a spokesman for the Hong Kong-based company, declined to comment.
Before it's here, it's on the Bloomberg Terminal.
LEARN MORE