Four Charts That Show Labor Slack Is Diminishing and Wage Hikes Are on the Way
The evidence is piling up
by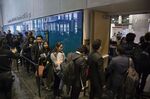 Are we close to full employment? In a note to clients, David Doyle of Macquarie Capital lays out an extensive case that the labor market is about as tight as it can be right now, and "the end of slack is near." According to his research, wage growth is about to accelerate and a Fed rate hike is all but inevitable this summer.
Among the evidence gathered in his argument, more than 40 years has passed since unemployment got this low without the Fed making its first post-recession rate hike.

Based on previous cycles, wage growth has bottomed out.

Employer costs for employee compensation per hour worked is spiking:

And as we've noted more than once recently, employers are finding it harder and harder to find skilled labor. 

There's more, but the bottom line is that previous cycles and recent job data show the labor market is tighter than it's been in years and that changes are coming soon.
Before it's here, it's on the Bloomberg Terminal.
LEARN MORE