Facebook Fraud Suspect Used 'Contraption' to Aid Escape
Bob Van Voris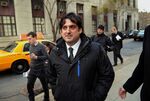 The man facing fraud charges for claiming to own half of Facebook Inc. based on a phony contract escaped federal monitors by attaching his electronic ankle bracelet to what prosecutors called a "hand-made contraption" that simulated normal movements.
Marshals forced their way into Paul Ceglia's house in Wellsville, New York, on Sunday after a pretrial services officer was unable to contact him. They found Ceglia's ankle bracelet hanging from the ceiling-mounted, motorized device, Assistant U.S. Attorney Alexander Wilson said in court papers Wednesday.
Ceglia, 41, is scheduled to go on trial May 4 in Manhattan federal court, where Facebook co-founder Mark Zuckerberg is slated to testify against him. Ceglia was ordered to wear the ankle bracelet, which tracked his movements, as a condition of his pretrial release on $250,000 bond.
Ceglia is believed to be with his wife, two sons and the family dog, said Charles Salina, the federal marshal for western New York state. Salina said he doesn't know whether Ceglia is still in the U.S. The Marshals Service considers Ceglia a wanted fugitive.
"The purpose of the contraption appeared to be to keep the bracelet in motion using a stick connected to a motor that would rotate or swing the bracelet," Wilson said in court papers, filed as part of a U.S. request opposing Ceglia's pretrial appeal of a judge's refusal to dismiss the charges.
A timer was connected to the bracelet's charger so monitors would think Ceglia was at home charging it, Wilson said.
'Improperly Prosecute'
Ceglia's lawyer, Robert Ross Fogg, said in a phone interview the government is improperly prosecuting his client for exercising his constitutional right to access the courts and pursue a civil claim against Facebook and Zuckerberg. He claimed the criminal case was instigated by Facebook.
Fogg said he doesn't know where Ceglia is and hasn't communicated with him since he disappeared.
State police yesterday asked for the public's help in locating Ceglia's wife, Iasia Ceglia, 36, and sons, ages 10 and 11, after her family reported them missing.
Ceglia sued Zuckerberg in 2010, claiming he was entitled to half of Facebook based on a 2003 contract. The world's biggest social network is now valued at about $218 billion. A federal judge in Buffalo, New York, dismissed Ceglia's lawsuit last year, calling the contract "a fabrication."
Facebook and Zuckerberg, the company's chief executive officer, have said that Ceglia's claim is fraudulent. Zuckerberg, who in 2003 was a freshman at Harvard University, signed an unrelated contract to do website coding for Ceglia, they said.
The appeal is U.S. v. Ceglia, 15-00628, U.S. Court of Appeals for the Second Circuit (New York).
Before it's here, it's on the Bloomberg Terminal.
LEARN MORE