Australia's Lower Jobless Rate Masks Faltering Outlook: Economy
Michael Heath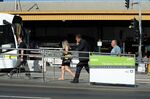 Australian unemployment exceeded 6 percent for a ninth month in February even as hiring improved, with fewer people seeking work in an economy struggling to gain momentum.
The jobless rate eased to 6.3 percent from 6.4 percent, the statistics bureau said in Sydney today. That compares with a median estimate of 6.4 percent in a Bloomberg survey of 28 economists and a decade average of 5.1 percent. The number of people employed advanced by 15,600, erasing a revised drop of 14,600 in January.
The economy is set to expand below its potential growth rate for six of the past seven years and policy makers are trying to encourage spending by consumers and companies to offset falling mining investment. The Reserve Bank of Australia kept its benchmark rate unchanged at a record-low 2.25 percent last week, after cutting in February, as it tries to avoid pushing house prices higher in Sydney.
"Given that employment tends to lag changes in economic activity, we expect that the slowdown in gross domestic product growth in the second half of last year will result in weaker employment growth," said Daniel Martin, an economist at Capital Economics Asia Pte in Singapore. "Smaller rises in employment and the resulting rise in the unemployment rate will in turn weigh on wage growth."
Aussie Dollar
The Australian dollar traded at 75.92 U.S. cents at 12:36 p.m. in Sydney from 76.07 cents before the release. Traders are pricing in about two more cuts in the cash rate in the next 12 months, according to a Credit Suisse Group AG index based on swaps.
The number of full-time jobs rose by 10,300 in February, and part-time employment increased by 5,300, today's report showed. The participation rate, a measure of the labor force in proportion to the population, fell to 64.6 percent in February from 64.7 percent a month earlier, it showed.
"Unemployment remains high and although the rate decreased marginally the participation rate also dropped, perhaps reflecting discouraged workers," said Jasmin Argyrou, a senior investment manager at Aberdeen Asset Management. "There is considerable slack in the economy, bringing with it disinflationary forces that will likely lead to additional monetary easing."
Unemployment climbed in the resource-rich states of Western Australia and Queensland, as a mining-investment boom winds down, while falling in South Australia and Victoria.
"The economy is currently operating somewhat below its productive capacity," RBA Assistant Governor Christopher Kent said in a speech Wednesday. "The forecast is for a gradual increase in the growth of demand and employment, and eventually a rise in non-mining business investment, supported by the very low level of interest rates."
Commodity Plunge
Australia is facing the effects of a fall in prices for its key commodity exports including an almost halving in that for iron ore in 2014. The economy grew 2.5 percent in the final three months of 2014 from a year earlier, below its annual average growth rate over the past 30 years.
Falling commodity prices in response to weakening demand growth from China and increased supply, and rising rate-cut bets have driven a 16 percent decline in the Australian dollar in the past six months.
In the Melbourne suburb of Broadmeadows, Ford Motor Co. cut about 300 jobs -- a third of its workforce -- last year as it prepared to close its car lines in 2016. At the same time, CSL Ltd. is expanding a blood-plasma manufacturing plant in the region that will employ 200 people during construction and a further 190 high-skilled workers once it's up and running.
Before it's here, it's on the Bloomberg Terminal.
LEARN MORE