Trump NYC Golf Course Ready for Tee Times After Two-Decade Wait
Erik Matuszewski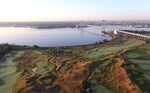 New York City's first new golf course in 52 years is scheduled to open April 1 and today begins accepting its first tee time reservations online.
Melting snow is giving way to green grass at Trump Golf Links at Ferry Point, the $269 million collaboration of Donald Trump and designer Jack Nicklaus that is built on a former landfill in the Throgs Neck section of the Bronx.
The most expensive public golf facility ever built in the U.S., Ferry Point has been almost two decades in the making. The original plan was for the course to open in 2001, yet the project was pushed back significantly by cost overruns and construction, legal and environmental delays.
"We're incredibly excited about what's about to happen for golf in the New York area," Ron Lieberman, who oversees Ferry Point as vice president of special projects for the Trump Organization, said in a telephone interview.
Ferry Point sits on the east side of the Bronx-Whitestone Bridge, which connects the New York City boroughs of the Bronx and Queens, and has views of the Manhattan skyline from some of its 18 holes. The treeless links-style course is on a 222-acre former landfill and includes tall grasses and dunes that reach heights of 55 feet.
Possible Major
Trump, who took over the project in 2011, said he expects Ferry Point to be a future major championship site, and U.S. PGA Tour Commissioner Tim Finchem has said he's interested in holding a tournament at the course. Because of Ferry Point's pedigree, the newest of the city's 14 golf courses is also by far the most expensive, ranging from $141 for New York City residents during the week to $215 on the weekends for non-residents. There are discounts for seniors and juniors, and the course will also have caddies available.
"Golfers are going to get an exclusive, high-end, country-club experience," said Lieberman, who compared the quality of Ferry Point to Trump's private course in Bedminster, New Jersey, where some members pay $300,000 to join along with annual dues of $25,000.
Ferry Point, which is scheduled to open its $10 million clubhouse next year, will be accepting reservations for April tee times online at its website and by phone.
"We've still got some considerable snow drifts on the course, but we've had a good melt the past few days," Ferry Point General Manager Joe Roediger said by phone. "We can't wait for the start of spring and the golf season."
Before it's here, it's on the Bloomberg Terminal.
LEARN MORE