Ted Cruz Without Applause is the Most Gripping Video You'll See All Day
The Texas senator tanks at a presidential forum.
By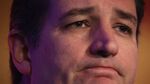 If, like many Americans, your job involves watching a lot of speeches by Ted Cruz, you have grown familiar with the Texas senator's applause lines. Since October 2014, he has honed a list of "conservative agenda" items that can be punctuated with hoots, hollers, and huzzahs at any gathering on the right. Last month, at CPAC, he rattled them off in a friendly Q&A with Sean Hannity.