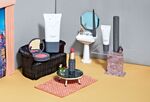 Like many professional women, Julie Fredrickson and Chelsa Crowley do their makeup as they're running around—at the office, at the gym, even applying it on the subways of New York. Often, they lug around heavy bags of full-size products that are meant to be kept on a vanity at home. "We're not doing our makeup in the boudoir," says Crowley, 33. "Women's lives have changed," adds Fredrickson, 31, "but the cosmetic industry has not changed with us."
A year ago, they began working on Stowaway, a line of smaller-size cosmetics—creamy $15 lipsticks no bigger than a AAA battery, $10 eyeliner the size of a Q-tip—that they launched in February. Their six-product $75 kit, about the size of an iPhone, fits inside any purse. In one month, Fredrickson and Crowley tripled projected sales on stowawaycosmetics.com, the only place the line is sold.
When they began fundraising, miniaturized makeup wasn't a big enough idea for most venture capitalists. But Stowaway still raised $1.5 million from more than a dozen investors, including Gary Vaynerchuk and Marc Ecko. The company's challenge is to take "a shot across the bow" of the $60 billion makeup industry, says Fredrickson, who previously sold an e-commerce company to PopSugar, a women's media network. Crowley, who spent a decade working for Clinique and Bobbi Brown, brings the beauty know-how.
Manufacturing the products costs about the same as larger counterparts. But they contain fewer chemicals: By reducing package size and omitting a lengthy wholesale-to-retail chain, Stowaway can limit preservatives. And rather than merely avoiding the handful of ingredients banned in the U.S., the company adheres to rigid European guidelines, which prohibit more than a thousand substances. As of now, there are no plans for stores. But, Fredrickson says, she could easily set up shop near airport security counters.

Before it's here, it's on the Bloomberg Terminal.
LEARN MORE