Scott Walker: 'Maybe We're the Front-Runner' in 2016 Republican Race
The Wisconsin governor sounds downright bullish when a writer asks how it felt to be singled out for criticism by President Obama.
By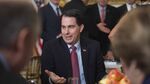 In presidential politics, candidates and their strategists typically try to tone down expectations, especially ahead of sometimes unpredictable primary contests such as the Iowa caucuses. Not Scott Walker.
The Wisconsin governor and likely 2016 Republican candidate sounded downright bullish when asked this week how it felt to be singled out for criticism by President Barack Obama after he signed so-called right-to-work legislation.
"It suggests maybe we're the front-runner, if somebody is taking an active interest in what a state governor is doing, particularly in light of the fact that we're not the only one," Walker told Jon Fleischman of Breitbart, a conservative online publication.  "Mitch Daniels in '12 signed this, Rick Snyder, my friend in Michigan, signed it later that year. We are now the 25th state in America to have freedom to work."
In a rare move of directly criticizing a sitting governor–and also inserting himself into Republican presidential primary politics–Obama issued a statement Monday night sharply critical of Walker, about 12 hours after the governor signed the bill into law. The president said he's "deeply disappointed" in what he described as an "anti-worker law" that allows employees in union workplaces to opt out of dues and membership. Walker should be searching for ways to boost pay, Obama said.
Walker is indeed the front-runner in some polls. A Bloomberg Politics/Des Moines Register Iowa Poll, taken in late January, showed Walker atop a wide-open Republican race with 15 percent in the state that hosts the first nomination voting. The governor has also seen his standing improve in recent national polls, following well-received appearances at political events such as the Iowa Freedom Summit and the Conservative Political Action Conference.
Iowa Republicans interviewed Tuesday by Bloomberg Politics said Walker will get a boost from the confrontation with Obama and should talk about it as often as possible. 
"If the president keeps up his attacks on Governor Walker and his policies, the governor may have to count it as an in-kind contribution to his Iowa caucus campaign," said Matt Strawn, a former chairman of the state Republican Party. "Among Iowa Republicans, who measure a candidate's fidelity to the conservative cause by the critics they collect on the left, being attacked by the president and his liberal allies is the gold standard."