Scott Walker: 'Maybe We're the Front-Runner' in 2016 Republican Race
The Wisconsin governor sounds downright bullish when a writer asks how it felt to be singled out for criticism by President Obama.
By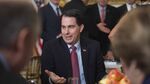 In presidential politics, candidates and their strategists typically try to tone down expectations, especially ahead of sometimes unpredictable primary contests such as the Iowa caucuses. Not Scott Walker.