Savvy Jets Fans Buy Discounted Revis Jerseys Minutes After Deal
Mason Levinson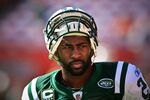 When Hal Hansen woke up Tuesday, he wasn't expecting to be shopping for National Football League free agents.
Hansen, a sports and entertainment marketing executive from Belmar, New Jersey, said he was watching NFL Network when news flashed across the screen that Pro Bowl player Darrelle Revis was spurning the New England Patriots and returning to the New York Jets, for whom the cornerback played from 2007-2012.
"The first thing I thought to do was jump to NFLShop.com, because I know that they oftentimes keep jerseys in stock after players leave the organization," Hansen, 38, said in a telephone interview. "I took a shot to see if they still had Revis and sure enough, it was a jersey regularly priced for $135 that was on sale for $55."
NFLShop.com offered several discounted jerseys in adult and children's sizes in the moments shortly after Revis sent a Twitter message Tuesday night saying: "NEW YORK I'm coming home."
An hour later, the products were out of stock. A green Nike Revis No. 24 jersey that before his move was selling for $45.99 now is listed for $99.95.
Fanatics Inc., which runs NFLShop.com, automatically discounts a player's merchandise by 40 percent after he leaves a team. The rarity of a star player with a lot of leftover stock returning to his former team is what created the buying opportunity for fans with quick fingers.
Hansen, who said he attends a game or two each season, hasn't owned a Revis jersey before. He also has the jersey of current Jets center Nick Mangold and is prepared if Curtis Martin or Brett Favre come out of retirement.
"I certainly wasn't in the market for a new jersey," Hansen said. "I thought, maybe I should buy several, but I just bought one for myself."
Tampa Bay
Revis, who last season was named an NFL All-Pro for the fourth time, was traded in April 2013 to the Tampa Bay Buccaneers from the Jets. During his Tampa introduction, he said of being shopped by New York that it felt "like the team is giving up you." Last season, Revis joined the New England Patriots, helping the Jets' division rival win a Super Bowl title in February.
Some New York fans tucked their Revis jerseys away when he left, while others burned them. Doug Drotman, a public-relations professional from Commack, New York, said he proudly wore his throughout the 2014 season, in both his living room and sports bars.
"As a fan, my anger was more at the organization for not keeping him," Drotman, 50, said in a telephone interview. "I'm never angry at a player for leaving for greener pastures."
And for the New England fans who today are upset about losing their star cornerback, Revis's Patriots gear soon will be 40 percent off.
Before it's here, it's on the Bloomberg Terminal.
LEARN MORE