O'Reilly Show Looks for Threatened Voters in Harlem, Doesn't Have Much Luck
But the concern in other states is real.
By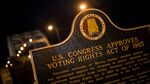 In honor of the 50th anniversary of "Bloody Sunday," when police attacked civil-rights activists marching in Selma, Ala., for voting rights, Fox News' The O'Reilly Factor sent John Stossel to ask black people in Harlem if they thought racism still exists and if voting rights are threatened. On voting, almost everyone in the clip said no.
"Almost no one, unlike the coverage of Selma, nobody felt their voting rights threatened," Stossel said in the segment, which aired Tuesday night.
The fact that voters in New York might not have had the same perspective on voting freedom as voters in the South, since New York did not pass more restrictive voting laws after the Supreme Court's 2013 decision on the Voting Rights Act, didn't come up.
If states like California, which allows four weeks of early voting without an excuse, or Oregon, where voters vote by mail, are the ideal, then New York's laws are far from perfect. According to the New York Board of Elections, voters in the Empire State don't need a photo ID, but also don't have access to same-day registration—they must register 25 days in advance. New York also doesn't have early voting, and the state had one of the country's worst turnout rates in the 2014 midterms, 28.8 percent.
But according to the Brennan Center for Justice, New York legislators introduced more than a dozen laws that would have made it easier to vote, or register to vote, in 2014.
Compare that to what happened in other states after the Supreme Court's 2013 decision, which invalidated the way the 1965 federal voting-rights law determined which states and counties with histories of voter discrimination needed to clear their new voting laws. (New York's Bronx, Kings, and New York County were also covered under that section of the VRA.) Americans met the decision with disapproval: 51 percent opposed the move, including 71 percent of African Americans, according to an ABC News/Washington Post poll from June 2013.
Within days, sometimes hours, of the decision, states like Texas, Mississippi, Alabama, and North Carolina pushed through laws that had been blocked by courts in the past.
That is what has given rise to concerns that voting rights, particularly those of minorities, are under threat.
The Justice Department opposed Texas's voter ID law in 2012 because data provided by the state showed Hispanics were far less likely to have government-issued ID.
In North Carolina, the Moral Monday protest movement started in response to a bill, now law, to cut the in-person absentee ballot voting period by seven days, end same-day voter registration, and ban out-of-precinct voting. As The Nation reported, in the 2010 midterm elections, "200,000 voted during the now-eliminated first week of early voting, 20,000 used same-day registration and 7,000 cast out-of-precinct ballots." For comparison, Republican Thom Tillis beat Democratic Senator Kay Hagan by 50,000 votes in 2014. In 2016, voters will be required to show a photo ID.
In an open letter on the anniversary of the Selma march, Reverend William Barber, president of the North Carolina NAACP and leader of the Moral Monday movement, argued that the "gutted" Voting Rights Act paved the way for "the worst voter suppression bill since Jim Crow." 
"Selma is not dead," Barber wrote. "It's not even past. It is alive in North Carolina." In New York, voters might not know what they're missing, but that doesn't mean voting couldn't be easier here, too.