Noble Falls to October 2013 Low as Post-Iceberg Rally Erased
Jonathan Burgos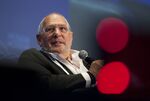 Noble Group Ltd. declined to its lowest level in 17 months, wiping out gains since the commodities trader rejected criticism of its accounting practices and directors including Chairman Richard Elman bought shares.
Noble fell as much as 5.4 percent on Wednesday before closing down 1.6 percent at S$0.92 in Singapore trading. The shares sank to the lowest level since October 2013, erasing a 8.2 percent advance last week spurred by the trading house's rebuttal to allegations from the anonymous group Iceberg Research and stock purchases by Elman and Chief Executive Officer Yusuf Alireza.
Noble says it uses accounting methodologies based on International Financial Reporting Standards and Iceberg's claim that $3.8 billion of fair-value gains are overstated is "false." Noble will accelerate efforts to increase transparency, Alireza said last week.
"While Noble has made more disclosures about how the company accounts for financial derivatives, investors aren't very comfortable," Soo Hai Lim, a Hong Kong-based money manager at Baring Asset Management (Asia) Ltd., said by phone. "It's a very complex business."
Noble spokesman Stephen Brown didn't immediately reply to an e-mail seeking comment.
The stock has tumbled 24 percent since Iceberg published its first report on Feb. 16, making Noble the worst performer on the Straits Times Index this year.
The slump has prompted stock purchases by company directors, with Elman buying 4.8 million shares on March 2 at S$0.9354 apiece and Alireza picking up 5 million shares at S$1.0058 each three days later. Director Richard Paul Margolis bought 130,000 shares at S$1.005 the same week.
Noble Shorts
While 10 of the 16 analysts covering Noble have buy ratings, price targets have been cut since Noble posted an unexpected fourth-quarter net loss on Feb. 26. Brokerages tracked by Bloomberg predict Noble's share price will rise to S$1.33 in the next 12 months. That compares with an average forecast of S$1.43 before Iceberg's first report was published.
At least two brokerages cut projections on the stock this month, with Jefferies Group LLC lowering its share-price forecast to S$1.30 from S$1.80 and Macquarie Group Ltd. reducing its estimate to S$1.35 from S$1.60.
Bets that Noble will continue to fall have increased, with short interest as a percentage of outstanding shares climbing to 0.61 percent on March 9, the highest since Nov. 19, according to data compiled by Markit Group Ltd. and Bloomberg.
"Iceberg's first two negative reports highlighted some legitimate concerns," Conrad Werner, an analyst at Macquarie in Singapore, wrote in a note dated March 5. "We think the reports were generally lacking in balance, a bit over-sensationalized, and in some instances factually off the mark. Nonetheless, they have had a profound impact on Noble's share price and management is still undergoing a process of addressing all the issues raised."
Before it's here, it's on the Bloomberg Terminal.
LEARN MORE