Newspapers, Late-Night Shows Join in Collective Eye Roll Over Clinton Press Conference
Front pages, editorial boards, and comics lay into Clinton after her press conference.
By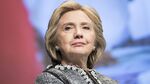 Hillary Clinton's press conference was met with incredulity on late-night comedy shows Tuesday night and some newspapers Wednesday morning. 
Clinton said Tuesday at a packed press conference at the UN that she had used her personal e-mail account while she was secretary of state for convenience, that she'd deleted thousands of messages she deemed personal, and that it probably would have been smarter to use separate devices for government and personal business.
The New York Post gave Clinton its usual wordplay treatment:
The story was on the front page of the Wall Street Journal, whose headline read "Clinton Regrets Email Choice"; the New York Times, "Clinton Says She Followed Rules on Email"; USA Today, "'Convenience' is Clinton's defense"; and the Washington Post, "Clinton aims to quiet uproar." In the key primary states of Iowa, New Hampshire, and South Carolina, the story ran on the front page below the fold in major papers.
The Washington Post's editorial board pointed out that even if Clinton was allowed to exercise judgement over which e-mails were kept and which were deleted, it still doesn't explain away the fact that her behavior violated a policy the Obama administration had clearly set forth, requiring that all officials use government networks for work purposes. It is "apparent that her decisions on her e-mail were based on what was best for her—what was 'convenient'—and not so much for the public trust," the board wrote.
The Wall Street Journal, invoking controversies of decades past, basked in the time warp, writing: "Her 'one device' excuse reminds us of her explanation from 1993 that she had made a 10,000% killing on cattle futures by reading the Wall Street Journal."
The press conference wrapped up right before taping at The Daily Show, so host Jon Stewart only briefly addressed it, calling into question whether carrying a second phone would really have been the arduous task Clinton made it out to be. "Doesn't she have, like, a sandwich team? She's surrounded by a team of people at all times. She couldn't be like, 'Hey, man, could you hold this other phone for me?'"
David Letterman lauded the scandal for its relative lack of sordid details, as scandals go. "There's some kind of a thing, when she was secretary of state, she was using her own e-mail, instead of the State Department's and I thought, 'Finally, a scandal the entire family can enjoy.'"