Korean Air Former Executive Sued in U.S. Over Macadamia Nuts Row
Kyunghee Park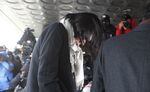 Heather Cho, the Korean Air Lines Co. executive who quit after a public outcry involving her treatment of a flight attendant serving macadamia nuts, was sued by the crew member for emotional distress.
Kim Do Hee, the flight attendant who offered Cho the nuts in a bag instead of a porcelain bowl, claimed she was hit, shoved and threatened by Cho, according to a complaint filed Monday in state Supreme Court in New York. Cho, the daughter of the airline's chairman, screamed obscenities at Kim and ordered the plane to return to the gate at the John F. Kennedy Airport, according to court papers. Kim is seeking unspecified damages.
Cho's lawyer Suh Chang Hee wasn't immediately available for comment. Korean Air didn't immediately reply to an e-mail seeking comments.
Cho, 40, was sentenced to one year in prison by the Seoul Western District Court last month for usurping a pilot's authority when she ordered a crew member to deplane following the dispute. She quit as vice president for cabin service and catering and apologized after the row prompted a public backlash.
The incident reignited a long-running debate in South Korea over whether the country's vaunted chaebol, or family-run conglomerates, hold too much power and influence. Cho Yang Ho, the chairman of Korean Air, also apologized to the public for his daughter's behavior.
The case is Do Hee Kim v Heather Hyun A-Cho, 702206/2015, New York State Supreme Court, Queens County.
Before it's here, it's on the Bloomberg Terminal.
LEARN MORE