Kleiner's Pao Admits to Scrapping, Shouting With Co-Workers
Robert Burnson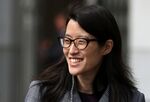 Former Kleiner Perkins Caufield & Byers junior partner Ellen Pao conceded to conflicts with several co-workers as the venture capital firm's lawyer sought to provide jurors with reasons other than gender bias for her being fired instead of promoted.
Pao described run-ins ranging from reprimanding a secretary who was late for work to leaving a fellow female junior partner in tears after a shouting match. The testimony Wednesday came on Pao's third day on the witness stand in a San Francisco trial that has put Silicon Valley under scrutiny for its treatment of women.
Pao shed more light on the complex relationships at the firm, saying she pushed her boss in 2006 to address her concerns about the behavior of the colleague she yelled at, Trae Vassallo. Pao later sent an e-mail saying the firm would be better off firing Vassallo than dismissing junior partner Ajit Nazre. Pao's brief affair with Nazre is at the center of the trial, in which Vassallo has testified on her behalf.
Nazre, who went on to win a promotion to general partner, was later fired after Vassallo alleged that he sexually harassed her. She, too, was promoted before she left the firm.
Pao, 45, claims she was wrongly denied a promotion and faced retaliation for complaining that Nazre, who was married, pressured her into their 2006 tryst. She's seeking $16 million in lost wages and future earnings.
Kleiner Denies
Kleiner denies any gender discrimination or retaliation against Pao. It says she failed because she was hard to get along with, had no experience as an entrepreneur and lacked expertise in strategic markets for investments.
During cross-examination Wednesday, Pao said that after joining Kleiner in 2005, she found Vassallo to be untrustworthy. She described Vassallo to another partner as a "major problem."
In an e-mail to managing partner John Doerr after the yelling episode, Pao pushed for something to be done to correct Vassallo's behavior. She told Doerr that while she didn't want to overstep her authority, "I think I have to break some glass" and "I'm not afraid to do it."
Eventually, Pao testified, she and Vassallo developed a good working relationship.
Pao said she also briefly feuded with Wen Hsieh after he was hired to share her responsibilities as Doerr's chief of staff. She confirmed earlier testimony that she complained about Hsieh's practice of getting their shared secretary to do his personal work, which included sending brain scans of his mother who was dying of cancer in China.
Hsieh's Expertise
Doerr, who was asked on the stand last week why Hsieh was promoted to senior partner and Pao wasn't, said Hsieh was an expert in three technologies important to Kleiner -- computer chips, biology and digital storage. Hsieh had also "incubated" two startups and was willing to move his family to China so he could work there even when his family didn't want to go, Doerr said.
When asked Wednesday about a 2007 e-mail she wrote to partner Ted Schlein that alluded to terminating Vassallo or Hsieh, Pao testified that she wasn't suggesting that Kleiner fire anyone. Rather, she considered Nazre to be more valuable to the firm, she said. At the time of the e-mail, Doerr wanted to fire Nazre because of his affair with Pao, according to earlier testimony.
Kleiner attorney Lynne Hermle on Wednesday showed the jury an e-mail Pao wrote after her secretary said she would be late because she was helping her landlord who was in a car accident outside her apartment.
'Help Your Landlord'
"It is great that you want to help your landlord," Pao said in the message. "It would be better for me if you would come to work on time."
Hermle asked the judge presiding over the trial to reconsider his earlier ruling not to allow the firm to argue that Pao's lawsuit has a financial motive.
Pao opened the door when she testified Tuesday that her reason for suing was to advance the status of women in venture capital, Hermle said.
Kleiner has argued it should be able to probe the financial difficulties of Pao and her husband, Alphonse "Buddy" Fletcher Jr. The master fund for Fletcher's hedge fund filed for Chapter 11 bankruptcy in Manhattan in June 2012. Pao was fired that October.
Superior Court Judge Harold Kahn said he was "caught a little off guard" by the request and that he planned to rule before the trial resumes Thursday.
Pao is now interim chief executive officer of Reddit Inc. She testified Wednesday she received more than $1 million in stock options when she took the job.
Vassallo is a strategic adviser for Kleiner, according to the Menlo Park, California-based firm's website.
Nazre, who now works in India, said before the trial that Kleiner has denied Pao's allegations about him and referred questions about the case to the firm. He isn't a defendant in the case.
The case is Pao v. Kleiner Perkins Caufield & Byers LLC, CGC-12-520719, California Superior Court (San Francisco).
Before it's here, it's on the Bloomberg Terminal.
LEARN MORE