Kleiner Lawyer Challenges Pao on Venture Capitalist Hopes
Robert Burnson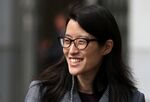 Ellen Pao's claim that she sued Kleiner Perkins Caufield & Byers to break down barriers for women was challenged by a lawyer who quoted the ex-junior partner saying she didn't join the firm to become a venture capitalist.
Jurors Tuesday were shown a videotape in which Pao said "no" to a Kleiner lawyer who asked whether she aspired to be a venture capitalist when she joined the Silicon Valley firm in 2005. Instead, Pao said she wanted to move into an operations role running a company.
Hours earlier, Pao told the state court jury in San Francisco, "I wanted to be a venture capitalist but was unable to do so in that environment." That was in response to her own attorney asking why Pao was still pursuing her 2012 lawsuit against Kleiner after landing a job as interim chief executive officer of Reddit Inc.
The trial has cast a spotlight on how women fare in the male-dominated venture capital industry. The company played the videotape of Pao's 2014 pretrial sworn testimony during cross-examination to pick out inconsistencies in her statements.
Pao, 45, claims she was wrongly denied a promotion at Kleiner and faced retaliation after complaining that a co-worker pressured her into having an affair.
'Eight Figures'
Under questioning by her lawyer, Therese Lawless, Pao testified that she sought "eight figures" from Kleiner in 2012 to leave the firm, a demand she said was meant to send the message that "it would actually be painful to not fix problems."
Pao told jurors she sued because she believes "there should be equal opportunity for men and women" in venture capital.
On cross-examination by Lynn Hermle, Kleiner's lawyer, Pao at first said she couldn't remember whether she came to Kleiner with hopes of becoming a venture capitalist.
Hermle played the videotape a few minutes later.
'Interesting Job'
"Is it true you were simply looking for an interesting job?" Hermle asks during the recorded deposition.
"Yes," Pao says.
Hermle spent much of Tuesday afternoon asking Pao about her relationship with Ajit Nazre, the junior partner she had an affair with in 2006. Pao testified that Nazre put his arm around her after she got hit by a taxi when they were together on business in Munich. She described this as inappropriate.
"When he went to touch you, did you say no?" Hermle asked.
'A Daze'
"No," Pao answered. "I'd been hit by a taxi. I was in a daze."
She said she had followed Nazre into a street and the cab hit her.
"You're not trying to blame him for what happened to you, are you?" Hermle asked.
"Not this part," said Pao, who is scheduled to continue testifying Wednesday.
Pao described the firm in Monday's testimony as a place where women were subjected to sexual harassment and sometimes excluded from male-only events. She claims the firm's managing partners did nothing to address her complaints. She is suing Kleiner for $16 million in lost wages and future earnings.
Consensual Affair
The firm contends Pao never formally complained that Nazre harassed her until she hired a lawyer five years after their consensual affair. An investigation determined that Pao's claims were meritless, Kleiner has said.
Kleiner denies any gender discrimination or retaliation against Pao. It says she didn't succeed there because she was hard to get along with, had no experience as an entrepreneur and lacked expertise in strategic markets for investments.
Nazre, who now works in India, said before the trial that Kleiner has denied Pao's allegations about him and referred questions about the case to the firm. He isn't a defendant in the case.
Nazre was fired in 2012 after an investigation found he harassed another female partner, Trae Vassallo. She complained that Nazre showed up at her New York hotel room one night on a 2011 business trip in his bathrobe asking to come in. She also testified at the trial about an unwanted sexual advance by Nazre in 2009.
The case is Pao v. Kleiner Perkins Caufield & Byers LLC, CGC-12-520719, California Superior Court (San Francisco).
Before it's here, it's on the Bloomberg Terminal.
LEARN MORE