Jamaica Seeks Agreement to Pay Off Venezuelan Oil Debt
Ezra Fieser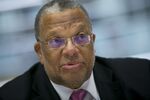 Jamaica is in talks with financial institutions on a plan to pay off debt it owes Venezuela for oil it received through the Petrocaribe energy program, Finance Minister Peter Phillips said.
The talks come less than two months after the Dominican Republic struck a deal to pay $1.9 billion for nearly all of the $4.1 billion it owed Petroleos de Venezuela SA, which administers Petrocaribe. Phillips said a similar deal makes sense for Jamaica, but he declined to provide details on how the deal would be structured or how soon an agreement could be reached.
"We certainly have valued and continue to value the Petrocaribe arrangement," Phillips said Wednesday in an interview at the Jamaica Investment Forum in Montego Bay. "We are mindful of the particular needs of our Venezuelan counterparts and in that space there is some prospect for some deal to be made."
Any accord would provide fresh cash to Venezuela as President Nicolas Maduro struggles to rein in the world's fastest inflation rate, the government juggles management of multiple exchange rate systems and consumers line up outside markets for basic goods such as soap and detergent. It would also lower the debt burden of Jamaica, which has won praise from the International Monetary Fund for efforts to rebound from a 2013 default on about $9 billion of local bonds, the second in three years.
$3.8 Billion
JPMorgan Chase & Co. estimates Venezuela's claims on Jamaica's Petrocaribe debt may be as much as $3.8 billion. Those claims will have a market value of $1.8 billion if Venezuela provides the Caribbean nation with the same discount given to the Dominican Republic, the bank said in a Jan. 30 report.
Under Petrocaribe, 19 Caribbean and Central American countries receive petroleum and refined products from Venezuela, paying only a portion of the bill upfront and financing the rest for 1 percent or 2 percent interest over 25 years. Venezuela's economic struggles have led some analysts to say the country may need to cut back shipments to its members.
Maduro has rejected that speculation, pledging to strengthen the energy program. At a March 6 summit, the Venezuelan leader said the country would provide $200 million in financing for member countries to develop renewable energies and that PDVSA would search for a dedicated well to keep oil shipments flowing.
'Project of Prosperity'
"PetroCaribe has become a project of prosperity, development and, most important, stability of the Caribbean," Maduro said on state television.
Buying back its Petrocaribe debt could help Jamaica cut a debt-to-gross domestic product ratio of about 130 percent. The government is nearly halfway through its IMF program.
Oppenheimer & Co. said last month Jamaica could reduce its debt by an additional 10 percentage points of GDP if it buys back the debt in a deal structured similarly to that of the Dominican Republic.
Jamaica will return to the dollar bond market in the fiscal year beginning April 1, Phillips said. The country sold $800 million of bonds in July last year. The government is also in discussions to take advantage of the drop in crude prices by hedging to lock in prices at current rates, Phillips said.
Bond Returns
Jamaica dollar bonds have returned 8 percent in the past six months, second only to Argentina's 22 percent for emerging markets, according to JPMorgan Chase & Co.'s EMBIG index. Phillips said that reflects improving economic fundamentals and the government's commitment to cut its debt.
"The foundations of this coming phase of growth will be stronger and firmer than before," he said.
The Caribbean island of 2.8 million has passed seven straight IMF reviews as it has tackled inflation, cut the unemployment rate and improved its rankings for doing business since the default and subsequent restructuring.
The government is also pushing new sectors for development, including outsourcing, energy and logistics. Investors gathered at the Chinese-built convention center overlooking Montego Bay this week as the government pitched more than $1 billion in projects.
Service Economy
The mountainous Caribbean island famous for singer Bob Marley and white sand beaches is heavily dependent on services, which accounts for 79 percent of the $14 billion economy.
Inflation for the fiscal year ending this month will be at or below 5 percent, the lowest level in 45 years, Bank of Jamaica Governor Brian Wynter said in a separate interview. That should help stabilize the Jamaican dollar, which has lost 6 percent of its value against the U.S. dollar in the past 12 months and remains a chief complaint for manufacturers, he added.
The government will set an inflation target of between 5 percent and 7 percent for next fiscal year, Wynter said.
Progress on slowing inflation appeared derailed last year when a drought decimated crops and sent the economy into contraction. Gross domestic product shrank 0.3 percent in the quarter ending in December, and 1.4 percent the previous quarter, according to the Planning Institute of Jamaica.
"That was a disappointment but it was driven by a drought that was deeper than we thought," Wynter said. "Jamaica is definitely not in recession."
The government expects the economy to expand between 1.5 percent and 2 percent in the coming fiscal year while the country sticks to the terms of the IMF package, he said.
"A few years of employment growth and GDP growth of around 2 percent, nothing that's going to change the world but around 2 percent, will create the base for persistent growth that will show results in the long term," Wynter said.
Before it's here, it's on the Bloomberg Terminal.
LEARN MORE