How Chuck Grassley, Rand Paul, and 80,000 Other Americans Clobbered an Ammo Ban
The ATF did what right-wingers live in fear of. They noticed.
By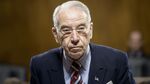 At the end of February, the Bureau of Alcohol, Tobacco and Firearms issued a lengthy epistle on "determining whether certain projectiles are 'primarily intended for sporting purposes.'" Anyone who read the 17-page memo would learn that the ATF was considering a ban on M855 ball ammunition, and that citizens had until March 16 to comment.