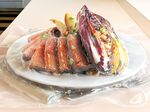 It's an odd thing to get fish by mail. But there they lay, nestled between ice packs the size of paving stones, six beautiful fillets of Acadian redfish from the high-end supplier Sea to Table. They came with tiny bottles of soy sauce and rice wine vinegar, exactly two pats of butter, and a half-dozen other ingredients that go into miso rice with roasted redfish—all delivered overnight by a company called Plated. Inside the box, everything was premeasured but unprepared: Vegetables had been left whole, meats unmarinated. So that night, when dinner landed on my table—and then on my Instagram account—I could honestly brag that I cooked it from scratch.
Meal kits like this first took off in Sweden in 2007 with a company called Middagsfrid, which roughly translates to "dinner peace." (Similar businesses had a moment in Silicon Valley in the late 1990s.) American versions began popping up in 2012, with the near-simultaneous creation of Blue Apron and Plated by separate factions from the same Harvard Business School class. The rumor among classmates, which Blue Apron Chief Executive Officer Matt Salzberg denies, is that he got his idea from Plated founders Nick Taranto and Josh Hix, then was faster to line up funding. Later in 2012, a year-old German startup called HelloFresh came to the U.S. In 2013, Atlanta-based PeachDish joined the fray with boxes that have a "Southern accent." The Purple Carrot began providing vegan options last fall.
Most operate using a weekly subscription model. Customers start by visiting an expensively designed website to browse recipes, complete with artful photos, calorie counts, time estimates, and ingredient lists peppered with exotic fare. They decide how many dinners they'll be serving each week and which dishes they'd like to try. Portions cost from $8 to $12 per person. When the box arrives on the chosen day, it contains all the fixings for a somewhat ambitious but not quite Julia Child-level meal.

"The notion of convenience is changing—it used to be 'throw something in the microwave,' " says Darren Seifer, a food analyst with market-research firm NPD Group. "Now consumers want to be part of the process but still want to get out of the kitchen quickly." As the farm-to-table ethos has spread from fine dining down to fast food and everybody has started asking where their pork comes from, Americans are seeking out a "sensible involvement" with the things they consume, Seifer says. The kits, with their breathless blog posts about artisanal purveyors and locally grown rainbow chard, are the latest spawn of that trend.
Subscribers tend to be folks who enjoy cooking—or enjoy nicely cooked food, at least—but lack the skills or time to get there. For reluctant home chefs, the strategy is cheaper than a takeout routine; for more experienced ones, it offers a reprieve from a familiar recipe repertoire. "I really enjoy menu planning when I'm entertaining, but I don't like to do it on a daily basis," says Kathryn Zabik, 32, a Blue Apron subscriber for more than two years. The deliveries force her to cook on weeknights, she says, "without having to build a whole pantry of spices and sauces or go to a specialty market to find the produce."
This year, Blue Apron will ship "well above" 1 million meals monthly, Salzberg says. Plated and HelloFresh won't release numbers, but if employee head counts are any indication, they're a quarter and a tenth of the size, respectively. The newer services are even smaller, shipping fewer than 10,000 a month. Taken together, they make up a tiny slice of the almost 10 billion dinners eaten in the U.S. every month, but the companies are growing rapidly. After $50 million in third-round funding from Stripes Group last April, Blue Apron was valued at $500 million. Food "is a sector that's been overlooked by the venture world for two decades," says Kent Bennett, a partner at Bessemer Venture Partners, one of Blue Apron's early investors. "Very shortly preceding our investment, we started to say, 'This could really transform a trillion-dollar industry.' " He's hardly alone: Last year venture capitalists funneled $1 billion into food tech, according to research firm CB Insights. Until the bubble bursts, all of that cash is basically subsidizing dinner.
Salzberg's main pitch has to do with sending supermarkets the way of iceboxes and wood-burning stoves. "The grocery store is … not the best way to source ingredients for dinner," he says. Food retail is a $620 billion category, says Food Marketing Institute, a grocery trade group. But supermarkets haven't evolved much since they began replacing general stores in the 1920s. Most still amass food through a Byzantine web of distributors and wholesalers, then hope most of it will eventually get bought.
Meal-kit companies, by contrast, work directly with food producers to acquire exact quantities of particular items, in some cases at a lower cost than grocers pay. At supermarkets, as much as 40 percent of America's perishable ingredients ends up in the trash. Michael Pollan, author of The Omnivore's Dilemma, says this inefficiency is a major deterrent to cooking from scratch. "If you buy that head of broccoli, it's going to make you feel bad about yourself if it sits there and wilts," he says. Plated claims to reduce food waste to less than 2 percent.
The menu planners favor small farmers and quirky seasonal produce instead of commodity growers, sourcing ingredients that typically wind up in farmers markets and high-end restaurants, not grocery stores. "I don't think about what I want to cook so much as asking the farmers what they can grow for us," says Matt Wadiak, a Blue Apron co-founder, who designs the menus. This month he's working with niche items such as Tokyo turnips, freekeh, and watermelon radishes.

Freshness is, of course, a huge selling point. "In a grocery store, on average, produce sits on the shelf for five-and-a-half days," says Taranto, the co-CEO of Plated. That doesn't include time spent before at the wholesaler and distributor. In many cases, he says, his company packs up produce and meat that arrived at their facilities the same day. Like Blue Apron and HelloFresh, Plated has multiple fulfillment centers across the country to defray shipping costs and deliver ingredients from regional farmers.
All of this is reflected in the kits' prices. The meals are supposedly less expensive than assembling an equivalent one from Whole Foods, but that's only because you're not buying overlarge quantities of eggs and whole jars of turmeric. Still, the average American spends $2 to $3 per person on a supper eaten at home, NPD says, so one costing $10 per plate squarely qualifies as excessive.
Critics of the kits also cite the extra packaging—a plastic sleeve for a single scallion, say, or six chemical ice packs cooling a vacuum-sealed piece of salmon. What most customers can't see is the packaging and shipping that's been omitted in the chain from producer to consumer. It's possible these boxes are greener as a whole than buying groceries the conventional way, though it hasn't been studied yet. "Because we're cutting out all those steps through the supply chain," Taranto says, "I believe we're able to reduce [emissions] from farm to front door."
And that's before you adjust for food waste. After I spent a week cooking with Plated, there were none of the usual half-eaten bunches of herbs and celery wilting in my fridge, and no additions to the collection of obscure Asian sauces and hippie grains in my pantry. The price was well below what I would have spent shopping for the same costly recipes—as much as 32 percent lower, if you believe Plated's calculations. Each of the recipes was true to its time estimate and took less than 45 minutes to complete.
But even that investment may prove too onerous for all but the most dedicated cooks. A harried lawyer friend who recently tried HelloFresh appreciated the quality of the ingredients but says she couldn't handle the 30 minutes of chopping and stirring. "I think slicing an onion stands between many people's desire to cook and their ability to do it," Pollan says. Soon, maybe, these companies will go ahead and chop the veggies for you.
Before it's here, it's on the Bloomberg Terminal.
LEARN MORE