Global Art Sales Hit Record $54 Billion, Led by U.S. Buyers
Katya Kazakina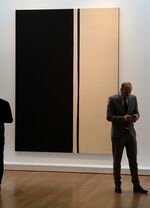 Global art sales hit a record in 2014 as collectors drove up prices for trophy works by modern, postwar and contemporary artists.
Sales of art and antiques totaled 51.2 billion euros ($54.1 billion), up 7 percent from 47.4 billion euros in 2013, according to an annual report published Wednesday by the European Fine Art Foundation.
As surging financial markets have lifted the fortunes of the world's richest, collectors have sought to diversify their portfolios with art by brand names and hot young artists. Yet a small number of transactions accounts for almost half of the market's sales, according to the report.
"There's an ever smaller number of buyers, sellers and artists dominating the market," said Clare McAndrew, founder of Dublin-based consulting firm Arts Economics, who compiled the report. "There's a perception that if you don't have $1 million to spend, it's not your market. In fact, a lot of action is taking place at the lower end."
About 1,530 lots were sold for more than 1 million euros, up 17 percent from 2013, according to the Maastricht, Netherlands-based organization. These lots accounted for 48 percent of the value of the fine art auction market but only 0.5 percent of transactions.
Boom Years
Of the 127,365 artists whose works sold at auction during the year, only 54 accounted for lots priced at more than 10 million euros.
The 2014 tally surpassed the pre-recession boom years, when the previous record of 48 billion euros was set in 2007, according to the report.
The total value of all sales increased by 81 percent from 28.3 billion euros in 2009, when art prices had contracted as a result of the global financial crisis.
Postwar and contemporary art was the largest segment of the fine art market, with 48 percent of all sales by value. Auctions of postwar and contemporary art reached 5.9 billion euros, up from 4.9 billion euros in 2013.
Andy Warhol, Francis Bacon, Gerhard Richter, Mark Rothko, Jeff Koons, Cy Twombly and Barnett Newman were among the top 20 artists at auction last year.
U.S. Leads
Newman's "Black Fire I," a canvas of vertical blocks of black and beige, was the second most-expensive sale at $84.2 million at Christie's in May.
Warhol's "Triple Elvis," a silkscreen of Elvis Presley, sold for $81.9 million. His "Four Marlons," a canvas of four images of Marlon Brando, fetched $69.6 million. Both works were sold in November at Christie's in New York.
The U.S. kept its leading position as an international art center, representing 38.8 percent of the market by value, according to the report.
China barely held onto second place, with 22.4 percent of sales, down from 24 percent in 2013. The U.K., which accounted for 21.9 percent of global sales, saw an increase from 20 percent in 2013.
Chinese demand cooled off after peaking in 2011 when auction sales reached 9 billion euros, according to the report.
Online art sales increased by 32 percent to 3.3 billion euros in 2014 from 2.5 billion euros in the prior year. The middle market was the focus, with the majority of sales in the $1,000 to $50,000 range.
When converted into dollars, the total sales represent a 17 percent decline from $65 billion in 2013, as the euro fell 12 percent in 2014.
Before it's here, it's on the Bloomberg Terminal.
LEARN MORE