Nowotny Says Successful QE to Lift Bond Yields Above Zero
Jana Randow and Jonathan Ferro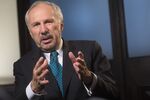 European Central Bank Governing Council member Ewald Nowotny said negative bond yields in the euro area probably aren't here to stay.
"If we enter a more normal phase of inflation expectations, that will also be reflected in yields," the Austrian central-bank governor said in an interview in Frankfurt on Wednesday. "I don't think one can assume that we will have a very long phase of negative yields if this program is successful."
Unlike earlier programs by the U.S. Federal Reserve and Bank of England, the ECB's 1.1 trillion-euro ($1.2 trillion) quantitative-easing plan that started on March 9 must deal with a market where a large share of bonds have negative yields. That exposes the national central banks to losses, a fact that Nowotny said threatens to damage their reputations.
"There is an inherent risk of future losses if we buy at negative yields, so basically, one would like to avoid those future losses by buying longer maturities," Nowotny said. "Engaging in foreseeable losses is something that may come with a reputational risk for central banks."
German 10-year bonds pared gains after the comments were published. The yield stood at 0.21 percent at 2:34 p.m. Frankfurt time after reaching 0.198 percent earlier, the lowest level since Bloomberg began collecting the data in 1989.
Inflation Expectations
"We maintain our call that the negative-yield environment will not last," said Markus Allenspach, head of fixed-income research at Julius Baer Group Ltd. "The more the ECB is successful in restoring the long-term inflation expectations, the more massive the correction will come at some point in foreseeable future."
ECB President Mario Draghi has already pointed to an improvement in market-based gauges of future price developments, while the inflation rate in the single-currency region was less negative in February than economists anticipated.
Nowotny said inflation will start to normalize in the second half of the year. The ECB's latest macroeconomic projections foresee consumer prices flat in 2015, with average inflation of 1.5 percent next year and 1.8 percent in 2017.
While QE started with the purchase of 3.2 billion euros of debt on its first day, according to ECB Executive Board member Benoit Coeure, policy makers have failed so far to agree how to share losses from buying bonds with negative yields. National central banks may try to avoid those securities for now, according to a person familiar with the discussions.
Yield Distortion
Debt securities from seven euro-area members, including Germany and France, or about a quarter of the 346 securities in the Bloomberg Eurozone Sovereign Bond Index, trade with a negative yield.
"One has to say clearly, negative yields are not avoidable in the current situation but they cannot be a long-term state of normal -- it's a distortion," Nowotny said. "If we should see that for a longer period of time we still have a large part of the market at negative yield, that's something we have to think about."
The ECB's plan is to buy 60 billion euros a month, distributed as evenly as possible across each trading day, until September 2016 or until it sees a "sustained adjustment" in the path of inflation.
While the ECB remains open to adjusting that schedule, Nowotny said there is no reason yet to change track.
"Now it is about implementing the program," he said. "I don't see a perspective to discuss changes at this stage."
Before it's here, it's on the Bloomberg Terminal.
LEARN MORE