The Dollar Super-Cycle Is Only Half Done
Liz Capo McCormick and Lukanyo Mnyanda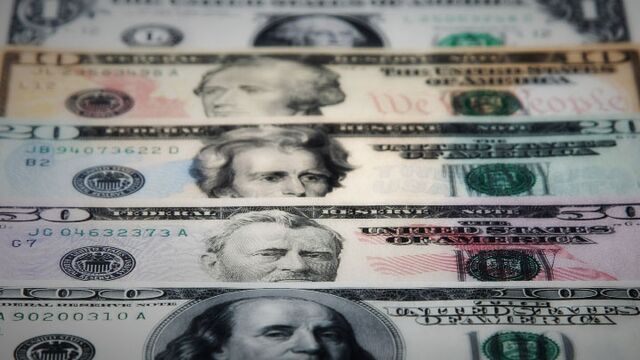 Investors counting on a slowdown in the U.S. dollar's meteoric rise better watch out.
That's the warning from Morgan Stanley's Hans Redeker, who says the currency's only about halfway through what analysts at the bank are calling a super-cycle that compares with other large moves going back to the 1980s. Until it fell on Thursday, the greenback had surged 3.8 percent versus a basket of currencies this month, the biggest increase over two weeks since May 2010, when investors were gripped with concern the euro would disintegrate.
Almost five years later, the 19-nation shared currency is again a key catalyst for a stronger dollar. The European Central Bank's 60 billion euro-a-month ($64 billion) bond-buying program has investors pouring cash into the U.S. as yields evaporate in Europe.
"The U.S. dollar is not yet done," Redeker said Wednesday from London, where he's head of global currency strategy. Demand from investors seeking dollar-denominated assets "is driving this, and we think there is much more to come."
The flood of liquidity from Europe comes as the Federal Reserve prepares to raise U.S. borrowing costs for the first time since the global financial crisis. On March 6, the dollar climbed the most in more than three years after a report showing strength in the U.S. labor market fueled speculation the Fed may raise rates as early as June.
Fed Expectations
Morgan Stanley isn't the only large bank calling for further gains in the greenback. JPMorgan Chase & Co. lifted forecasts against the euro and emerging currencies, including the Chinese renminbi and the Turkish lira, to reflect U.S. employment gains and easier monetary policy from other central banks around the world.
"By some measures the currency is behaving as if the Fed has already tightened by 100 basis points, which illustrates how high expectations are for a multi-year divergence between the Fed and other major and EM central banks," JPMorgan strategists John Normand and Niall O'Connor wrote in a March 6 note. "These expectations will be met eventually."
JPMorgan forecasts the dollar will end the year at $1.05 per euro and that the greenback will buy 2.55 lira, compared with prior forecasts of $1.10 and 2.5. The U.S. currency fell 0.6 percent to $1.0607 per euro at 1:11 p.m. in New York, after earlier touching $1.0495, the strongest since January 2003. It bought 2.6 lira.
Super Cycle
Prior dollar super-cycle rallies lasted about seven years and involved gains of around 50 percent on average against baskets of currencies, according to Morgan Stanley. The bank, which predicted the dollar's rally since 2012, is forecasting a similar increase this time around. The dollar has strengthened 23 percent since 2012 against 10 major peers including the euro and yen as measured by the Bloomberg Dollar Spot Index through Wednesday.
Not all analysts are convinced. John Hardy, head of foreign-exchange strategy at Saxo Bank A/S, said an accelerating dollar rally isn't such a sure thing. The pace of gains may prompt the Fed to refrain from raising rates sooner rather than later or from changing the language from its last policy statement, he said.
"The Fed isn't completely tone deaf," Hardy, who's based in Hellerup, Denmark, said Wednesday. "The Fed has to blink. They will be even more cautious than normal in their wording."
Deflation Concern
The U.S., the world's largest economy, is one of the few global hot spots as Europe seeks to avoid deflation, China slows and falling commodity prices hurt countries such as Brazil and Canada.
The International Monetary Fund in January made the steepest cut to its global growth forecast in three years, reducing it to 3.5 percent in 2015 from 3.8 percent previously. The U.S. was the one standout, with the IMF upgrading its forecast for America's growth to 3.6 percent growth in 2015, up from 3.1 percent in October.
"There's still very good reasons for the dollar gains to extend," said London-based Anezka Christovova, a foreign-exchange strategist at Credit Suisse Group AG, which predicts the U.S. currency will rally to 98 cents per euro in 12 months. "A big portfolio shift is underway with a global re-balancing from countries where yields are very low and the central banks are easing toward the dollar."
Before it's here, it's on the Bloomberg Terminal.
LEARN MORE