Clinton Launches Twitter Attack on GOP Hopefuls Over Iran Letter
Clinton went offensive over the letter after days of defending her use of personal e-mail as secretary of state
By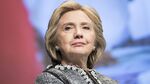 Change of subject, anyone?
One day after holding a press conference at the United Nations to try and explain her use of a private e-mail account and server during her tenure as secretary of state, Hillary Clinton took to Twitter to slam the Republican senators who signed a letter to Iran that she said "undermines" American foreign policy.
"GOP letter to Iranian clerics undermines American leadership," Clinton wrote in the tweet that was posted Wednesday afternoon. "No one considering running for commander-in-chief should be signing on."
Clinton's rebuke centered on the letter organized by Senator Tom Cotton and signed by 46 of his Republican senate colleagues—including potential GOP candidates Rand Paul, Ted Cruz, Marco Rubio, Lindsey Graham—to the leadership of Iran, advising the country's leadership that Republican lawmakers or a future U.S. president could undo any deal the nation might make with President Obama over its nuclear program. The tweet also took aim at Clinton's prospective presidential rivals outside the senate, including Louisiana Governor Bobby Jindal, who attempted to frame signing the letter as a litmus test for a White House run. 
Clinton, who has been under fire for revelations that she used only a private e-mail address to conduct government business as secretary of state, also attacked the letter in her Tuesday press conference.
Until recently, Clinton largely avoided using her Twitter account for political purposes, preferring to champion celebrate women's initiatives or express her joy at the birth of her granddaughter. In recent weeks, though, she's used the platform to announce her desire for the State Department to release those emails of her that it had and to criticize Republicans who said parents should have choice in whether or not to vaccinate their kids.