Caterpillar Faces 'Aggressive' Komatsu Fueled by Yen
Shruti Date Singh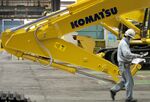 Caterpillar Inc. has grappled with the commodities slump and a slowdown in Chinese demand. Now it faces pressure from its largest competitor, reinvigorated by the turmoil in global currency markets.
Japan's Komatsu Ltd. is benefiting from the 20 percent plunge in the yen against the dollar since the beginning of July. That's helping it compete worldwide on prices for construction equipment such as excavators and dump trucks, according to Mike DeWalt, a Caterpillar vice president.
Caterpillar dealers say that when they are bidding for big deals, "maybe the Komatsu dealer is getting some help from the factory," DeWalt, who oversees Caterpillar's finance services division, said Thursday. "What we are hearing from dealers is Komatsu is being aggressive."
The competition between the two manufacturers illustrates how short-term gyrations in exchange rates can disrupt sales even as companies try to manage costs and other risks.
Caterpillar, the world's biggest maker of construction machinery, has 53 percent of its property, plants and equipment located in the U.S. While Komatsu also has factories around the world, 63 percent of its assets are in Japan, according to the most recent data compiled by Bloomberg. That provides a lower-cost manufacturing base, said Karen Ubelhart, a Bloomberg Intelligence analyst.
Unclear Picture
"Komatsu's yen advantage allows more competitive pricing, which could pressure Caterpillar's market share and margins," Ubelhart said. Losing market share may lead Caterpillar to cut output further, as reducing prices would erode margins, she said.
Caterpillar continued to see market share improvements in 2014, said Rachel Potts, a spokeswoman. The company said in January it expects a small gain in realized prices in 2015, equivalent to less than 0.5 percent of its sales.
Komatsu's policy is to keep increasing average product prices every year regardless of currency movement, said Hiroshi Ishihara, a Tokyo-based company spokesman. While price increases in some regions are more successful than others, overall the company has seen gains, he said.
Komatsu's improvement in sales and profit in the nine months through December were attributable in part to higher prices, the company said in a January presentation.
An accurate picture of global construction-machinery pricing dynamics is difficult to gauge even for industry insiders. Competition among dealers may not be reflected in published price lists, DeWalt said.
Minimize Volatility
Caterpillar, which had $55.2 billion in sales last year, is all too aware of the effects of currency fluctuations. As part of its long-term strategy to minimize the volatility, the company chooses factory locations to balance the impact of currencies on costs with their effect on sales. Caterpillar has operations in Japan, for example, where it's a net exporter.
"We aren't perfectly balanced but we are balanced enough that it doesn't drive big volatility in our bottom line," DeWalt said in an interview at the company's headquarters in Peoria, Illinois. Caterpillar does little currency hedging, he said.
One of Caterpillar Chairman and Chief Executive Officer Doug Oberhelman's earliest assignments at the company was in the finance department in the 1980s, working on a ''strong dollar policy,'' he said to reporters after a speech Wednesday in Detroit.
"That led us to basically go to a simple strategy: That is, produce where we sell," Oberhelman said. "If we were solely an exporter, we'd be a lot more exposed."
Mining Slowdown
There are other, more powerful trends shaping Caterpillar. Its revenue has dropped in the last two years after declines in commodities prices hurt sales of mining equipment, a market in which Caterpillar has the largest share. The company forecast in January that construction-equipment revenue will drop as much as 10 percent in 2015. Caterpillar forecasts total revenue will fall again in 2015, while Komatsu projects sales gaining in the current fiscal year.
Tough Environment
Currencies will hurt Caterpillar's sales in 2015 by about $500 million to $1 billion, but there will be a benefit on the cost side in that range or slightly more, DeWalt said. It's difficult to know how much of a factor exchange rates are in an already tough pricing environment, he said.
"Everybody in this business knows, it goes one direction one day and the other direction the other day," DeWalt said, referring to currency moves. "If you are dealing with customers, pricing can't be that fickle."
Before it's here, it's on the Bloomberg Terminal.
LEARN MORE