Cameron Raises Specter of SNP to Deter Labour Voters
Alex Morales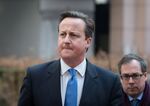 U.K. Prime Minister David Cameron raised the specter of the Scottish National Party propping up a Labour-led government as he seeks to win a second term in office in the May 7 general election.
Seat-by-seat polling by Conservative upper-house lawmaker Michael Ashcroft indicates the SNP may win some of Labour's safest seats in Scotland, and some surveys suggest the nationalist party may take more than 50 of Scotland's 59 electoral districts. Labour took 41 in 2010. Labour, led by Ed Miliband, has refused to rule out a coalition with the SNP, while saying it's not in the party's plans.
"They're not trying to win, they're just trying to crawl through the gates of Downing Street on the coat-tails of the SNP," Cameron told lawmakers in Parliament today. Miliband is "weak and despicable and wants to crawl to power in Alex Salmond's pocket," he said, a reference to a Conservative campaign poster depicting Miliband peering out of the coat pocket of Salmond, the SNP's former leader.
Polling suggests neither the Conservatives nor Labour will win enough seats in Parliament to gain an outright majority, leaving whoever wins the election reliant on minor parties for support. With the current third party, the Liberal Democrats, polling at about a third of the level they won in 2010, the SNP, now led by Scottish First Minister Nicola Sturgeon, may hold the balance of power.
Salmond lost last year's referendum for Scotland to gain independence from the U.K. Unlike Sturgeon, he's running for a seat in the Parliament in London, and he may play a role in any coalition talks. Sturgeon has pledged her party would support a Labour minority government, while ruling out propping up Cameron's Conservatives.
That brings up the prospect of "an alliance between the people who want to bankrupt Britain and the people who want to break up Britain," Cameron said.
Miliband urged Scottish voters on Saturday not to desert him for the SNP, saying that increased the likelihood of a Tory government.
Before it's here, it's on the Bloomberg Terminal.
LEARN MORE