Buffett's Bank Dividends to Rise by $70 Million on Fed Approvals
Noah Buhayar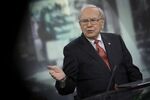 Warren Buffett's bet on U.S. banks will pay out about $70 million more in dividends annually after their capital plans were approved.
The Federal Reserve said Wednesday that it will allow the increased payouts after running stress tests on the country's largest banks. Buffett's Berkshire Hathaway Inc. is the biggest shareholder in Wells Fargo & Co. and American Express Co.
Berkshire's stake in both companies along with its holdings in Coca-Cola Co. and International Business Machines Corp. accounted for about three-fifths of the company's $117.5 billion stock portfolio as of Dec. 31. Buffett calls the group the "Big Four" and each year points out Berkshire's share of their earnings in addition to their dividends to his company.
If per-share earnings climb as expected at the companies, "dividends to Berkshire will increase and, even more important, so will our unrealized capital gains," he wrote in a letter to shareholders last month. "For the package of four, our unrealized gains already totaled $42 billion at year-end."
Wells Fargo said Wednesday that it was lifting its quarterly dividend by 2.5 cents a share, a smaller jump than last year's 5-cent increase. The latest move will raise payouts to Berkshire by about $48 million a year. New York-based AmEx boosted its dividend by 3 cents a share, the same as last year, swelling Berkshire's annual haul by $18 million.
Major Holdings
Buffett's company also has major stakes in U.S. Bancorp and Goldman Sachs Group Inc. Bigger payouts from those companies will boost dividends to Omaha, Nebraska-based Berkshire by about $6.5 million a year.
While the increased payouts help validate Buffett's investment in the industry, the rate of increase is slowing. The dividend increases announced last year totaled more than $120 million annually for his firm.
Berkshire's other main bank holding is in Bank of America Corp. Buffett bought $5 billion worth of preferred shares to help the lender shore up confidence in 2011 as its stock plunged. The securities pay $300 million in annual dividends to Berkshire.
The Fed began stress tests on the nation's biggest lenders in 2009 after the financial crisis cast doubt on their stability. The first round last week found that all 31 banks examined, including U.S. units of six foreign lenders, have enough capital to withstand nine quarters of stressful economic conditions. The second and more difficult round gauges their ability to weather losses and still pay dividends, buy back stock or make acquisitions.
Before it's here, it's on the Bloomberg Terminal.
LEARN MORE