Clock Ticks for China Billionaire on Sydney Mansion Sale
Narayanan Somasundaram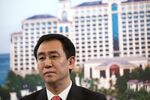 For sale: Five-bedroom mansion featuring handmade terracotta roof tiles and an infinity pool facing Sydney harbor and its iconic opera house. Owner must sell fast.
The Australian government on March 3 ordered Chinese billionaire Hui Ka Yan's property company to sell the A$39 million ($30 million) Villa del Mare in the upscale suburb of Point Piper within 90 days, after finding the November purchase violated foreign investment rules. It typically takes at least twice that long to sell a more than A$25 million Sydney home, property data provider CoreLogic Inc. estimates.
"It is just short of a fire sale," Elliot Placks, a director at Sydney-based realtor Ray White Double Bay, said by phone. "It seems like a short time to get a premium price." Placks is marketing three luxury homes in Sydney's eastern suburbs.
Hui's Evergrande Real Estate Group Ltd., which bought the mansion, is the most high-profile casualty of the Australian government's crackdown on illegal homebuying by foreigners. The action has the potential to cool the top end of the market, real estate firm BradfieldCleary says. Sydney is among the world's least affordable housing markets, according to Demographia.
'Shelf' Companies
Hui may still get close to what his company paid as the Australian dollar's decline has made homes more affordable to foreigners, Placks said. The proceeds will likely still be short of the estimated A$45 million total cost including taxes and other expenses, he said. Villa del Mare has yet to be publicly listed.
The mansion in Point Piper was bought via a string of "shelf" companies in Australia, Hong Kong and the British Virgin Islands, and the transaction didn't meet Australian foreign-investment rules, the government says. Point Piper is Australia's second-most expensive suburb, CoreLogic estimates.
Overseas buyers are only allowed to purchase newly built homes with permission from the Foreign Investment Review Board, known as FIRB, which the government says Evergrande didn't seek.
Evergrande declined to comment on the progress of the sale in an e-mailed response to queries from Bloomberg News sent through public relations firm iPR Ogilvy & Mather in Hong Kong.
Chinese investment in Australian residential and commercial real estate surged 42 percent from a year earlier to A$5.9 billion in 2012-13, according to the latest data from FIRB. Foreign buying of Australian property is "very active" in Sydney and Melbourne, Reserve Bank of Australia Assistant Governor Christopher Kent said in Hobart Wednesday.
Civil Penalty
The rule the government cited in ordering Evergrande to sell the property has been around for 20 years and was seldom pursued aggressively, said Bob Guth, a director at BradfieldCleary in Sydney. If the government upholds the rule strictly, it could "slightly slow" the luxury home market, he said, adding that three months isn't long enough to sell a house like Villa del Mare.
Last month, the government said foreigners who illegally buy homes in Australia would have to pay a civil penalty of as much as 25 percent of the value of the property and be forced to sell it.
A parliamentary committee in November found there had been 17 forced sale orders by FIRB between 2003 and 2007 and none under the Labor governments in office from 2007 to 2013. It said the A$85,000 FIRB fine at the time was "seen by many as simply the cost of doing business."
Home prices in Sydney jumped 13.7 percent in February from a year earlier, the fastest pace in five months, according to CoreLogic data.
Long Cycle
Evergrande bought the 2,000-square-meter (21,500-square-feet) property, which spans three levels and boasts a gymnasium and wine cellar, from recruiter Julia Ross after it had languished on the market for more than 18 months, the selling agent, Bill Malouf of LJ Hooker Double Bay, said by phone Tuesday. The home also features five en-suite bathrooms, a self-contained apartment and bespoke wrought-iron gates.
"The sale cycle is generally very long, maybe up to 12 months for such a property," Cameron Kusher, a Brisbane-based research analyst at CoreLogic, said by phone. " Even though the Sydney market is strong, it is hard to find buyers for this kind of stock."
Elaine, a Sydney harborfront property listed in February last year, is still up for sale, according to Ken Jacobs, managing director of the firm bearing his name and an affiliate of Christie's International Real Estate, which features the listing on its website. The property could fetch as much as A$100 million, according to the Australian and Sydney Morning Herald newspapers.
Australia's most expensive home, in the Perth suburb of Mosman Park, sold for A$57.5 million in 2009.
Property Developer
Hui, also known as Xu Jiayin in Mandarin Chinese, has built Evergrande, based in the southern Chinese city of Guangzhou, into the nation's fifth-largest property developer by sales. He has a net worth of $4.9 billion, according to the Bloomberg Billionaires Index.
His legal options for avoiding having to sell are limited to cumbersome processes, according to Malcolm Brennan, a Canberra-based partner at law firm King & Wood Mallesons.
"The easy path to appeal is not available," Brennan said. The FIRB decision can be challenged by filing a prerogative writ under the common law, which comes with a "fair bit of risk around time and cost as well as the prospects of the appeal."
Before it's here, it's on the Bloomberg Terminal.
LEARN MORE