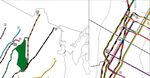 In 1964, the New York City Transit Authority decided it wanted to make the subway easier to navigate.
The problem was this: Up until 1940, the system had been operated by three different companies—IRT, BMT, and IND. Yet, years later, riders were still subjected to maps that identified routes by their original operators through a three-color identification system. What this meant in practice was that it was easier to discern which defunct company once operated your subway line than where that line was or wasn't taking you.
With the Chrystie Street tunnel scheduled to opened in 1967, merging the former BMT and IND networks, a three-color map was about to make even less sense. So the transit authority launched a design competition for a new system map. And the winning submission of that contest—lost for many years—has recently been restored.

A local lawyer, R. Raleigh D'Adamo, was the winner of that 1964 contest. His design separated local from express routes and assigned separate colors to each of them. As retold by Peter Lloyd of TransitMapHistory.com, submissions had to fit all the subway lines into a geographically correct map. So to use as little space as possible, D'Adamo employed colored squares along shared lines. Efficient? Yes. But where the lines cluster most, the map begins to look like a Chutes and Ladders board. Plus, no station names appear on D'Adamo's map.
Still, the transit authority took D'Adamo's idea and spent the next three years working with consultants and other designers to turn it into what became the official New York subway map in November 1967. The final design didn't use D'Adamo's station dot concept, choosing instead to place boxes that list the route letters or numbers of that stop at each station. His idea of using colored squares in lieu of parallel route lines was also scrapped.
In fact, the D'Adamo map itself disappeared completely. According to Lloyd, the original hand-drawn piece "languished in a cupboard in the office of the [transit authority's] Publicity Office until a clear-out led it to be binned." Last fall, however, D'Adamo found an old color photograph of the design sitting in the basement of his house. He and Lloyd then teamed up with graphic designer Reka Komoli to recreate the entire map.

Around the same time as the '67 map was being rolled out, the NYCTA (which became part of the MTA a year later) looked to improve the system's signage, hiring Massimo Vignelli and Bob Noorda of Unimark to create what became known as the NYCTA's Graphics Standards Manual, published in 1970. The MTA then went back to Vignelli for a map redesign that followed the principles behind the manual and used station dots like D'Adamo did.
The MTA replaced Vignelli's map in 1979, but even before that, officials started to modify some of his and Noorda's designs. As Peter Shaw chronicled for the AIGA in 2008, Vignelli and Noorda's black-lettering-on-white signs were soon inverted for legibility purposes. Who claimed responsibility for the switch? A 1970s MTA official by the name of R. Raleigh D'Adamo.