pursuits
Chile's Water Shortage Threatens Wines and Mines
Matt Craze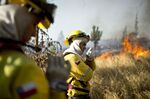 Winery De Martino found the clay soil and cool temperatures needed to produce its award-winning Quebrada Seca pale chardonnay in the Andean foothills north of Santiago. Now drought is threatening the grape's survival.
De Martino will stop producing two cheaper wines from grapes grown in the Limari Valley, about 200 miles (320 kilometers) from the Chilean capital, to free up precious water for its bestseller that goes for $29 a bottle, enologist Marcelo Retamal said. If parched reservoirs aren't replenished, grape growing in Limari may disappear altogether.
"Right now we are preserving our best wine but in two to three years the whole valley will die," Retamal, whose company was chosen by Chile's industry association as winemaker of the year in 2011, said in a telephone interview last week.
Chile -- a country that resembles an inverted California with a 2,435-mile long Pacific coastline ranging from a desert north to a lush green south -- is facing a drought that is every bit as bad as in the Golden State. An eight-year dry spell has left fruit withered, miners grappling for enough water to run plants and the forestry industry facing some of the worst wildfires in the last century. The effects are intensified by higher demand after the economy more than doubled in a decade.
Like California, drought has cut Chile's hydroelectric production in recent years, helping send power prices to the highest in Latin America. Climate change threatens to expand deserts and reduce the Andean snowmelt on which parts of the country depend heavily for drinking water and irrigation.
Drying Forests
"Climate change is a reality, but we have to recover from this some time," Brahim Nazarala, a researcher at Chile's water authority, a unit of the Public Works Ministry, said from downtown Santiago last month.
As winemakers like De Martino search for growing areas with more water, forestry companies in southern Chile are stepping up efforts to contain wildfires as humidity declines.
Brigades of firefighters prepare helicopters and drones to fly over parched eucalyptus forests for Celulosa Arauco, part of industrial conglomerate Empresas Copec SA. German Neumann, who heads Arauco's firefighting department, scrutinizes cameras scanning vast swathes of the forested foothills from a central control tower in the heart of the company's more than 1 million hectares (2.5 million acres).
After a 60-day dry spell, his team is on red alert, dispatching several brigades a day to protect a $5 billion forestry business. Outbreaks are up 20 percent over last summer, which was also hot and dry, Neumann said.
Arauco spends $35 million a year on firefighting.
Bone Dry
"When it doesn't rain for a month we are in a complicated situation, but two months is critical," Neumann said.
Chile's forestry commission, known as Conaf, has expanded its fleet of firefighting helicopters to 11 from seven and planes to eight from three. Alfredo Mascareno, head of Conaf's fire prevention unit, analyzes NASA satellite images of forest fires in Palena, an area of temperate rainforest in northern Patagonia where rainfall normally exceeds 67 inches a year.
Conaf has put out eight forest fires in Palena in the past year, while over the border in Argentina a blaze is raging over 30,000 hectares of land, sending a plume of smoke across the South American nation.
"Before these forests had enough humidity to protect themselves," Mascareno said. "Now when you walk through them, you can hear the crunch of leaves and matter under your feet. They are bone dry."
Lost Output
The drought is so bad it has started to affect Chile's mining industry, which is more accustomed to operating in the arid northern parts of the country. Chile is the world's largest copper producer, providing a third of the globe's output of the metal used in power cables and electrical wire.
Anglo American Plc lost 30,000 tons of copper output at its Los Bronces mine last year partly because of drought, Chief Executive Officer Mark Cutifani told analysts during the company's fourth-quarter earnings call on Feb. 13.
Water is "the key issue" to expand Los Bronces and Anglo's Collahuasi mine in the Atacama Desert, which has the potential to become one of the world's largest mines, Cutifani said. The company is negotiating with neighbors to ease the restriction at Los Bronces where water is needed to make copper concentrate from milled rock, he said.
Water Rights
Chile's government is revising a law that allows companies to buy exclusive freshwater rights as it seeks to ensure supply to consumers while encouraging mining companies to desalinate seawater, Mining Minister Aurora Williams said in an interview in Toronto on March 1.
Chile will also increase its own desalination effort to boost supply to town and cities in drought-stricken areas, President Michelle Bachelet said in an interview Tuesday.
Anglo built a desalination plant near its Mantoverde copper mine in central-northern Chile. BHP Billiton Ltd. and Rio Tinto Plc are building a $3.4 billion plant to feed water to the Escondida copper mine, the world's largest.
Desalination will cost Chile's mining industry more than $13 billion if the technology is required by the government, according to Bloomberg Industries. Acciona SA, the Spanish developer of clean energy and water projects, is predicting a boom in the demand for plants in Chile.
'Really Serious'
While mining companies may have the resources to build desalination plants, small grape growers in Limari, such as those that supply De Martino, have no such alternatives, enologist Retamal said.
Limari is the only valley in Chile with the limestone-packed soil that can replicate high quality pale chardonnays that emanate from the Chablis and Burgundy areas of France, he said. The valley's grape growers and lemon and avocado farmers desperately need winter rain to replenish snow-pack on the Andes Mountains that tower above the valley.
"The situation is really serious," Retamal said. "These guys have all their money in the vineyards and if they don't produce anything, they will go broke."
(Updates with comment from President Bachelet on desalination in 19th paragraph.)
Before it's here, it's on the Bloomberg Terminal.
LEARN MORE