Why Brady Dougan Leaving Credit Suisse May Be Good News for Deutsche's Anshu Jain
Nicholas Comfort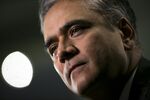 Anshu Jain is getting support for his bid to keep Deutsche Bank AG among the top global investment banks from an unlikely quarter: his largest remaining European rival.
Credit Suisse Group AG's decision to replace Brady Dougan as chief executive officer with Prudential Plc CEO Tidjane Thiam means the company probably will shrink its investment bank, ceding revenue to peers, said Stefan Bongardt, an Independent Research GmbH analyst.
Jain, Deutsche Bank's co-CEO, is reviewing the firm's strategy after investors failed to reward his plan to invest in debt trading, making the stock the worst performer among the largest banks last year. His prediction that competitors would abandon areas of investment banking is starting to come true, as Royal Bank of Scotland Group Plc and Standard Chartered Plc hastened their retreat this year.
"Market share gains are going to become easier for them, especially now that Credit Suisse may not have its foot on the pedal," said Neil Smith, an analyst at Bankhaus Lampe in Dusseldorf. "Deutsche Bank will probably announce some trimming. They may try to dress it up as deep cuts, but they're right not to change too radically."
Michael Golden, a spokesman for Frankfurt-based Deutsche Bank, declined to comment on the potential for Credit Suisse's CEO change to boost revenue at his company's investment bank.
Few Alternatives
Credit Suisse will carry on with a plan to allocate less capital to its investment bank and the CEO change is "not about a fundamental sort of re-direction," Urs Rohner, the company's chairman, said on a conference call with reporters on Tuesday. After the bank meets its goals, "then obviously it's up to a new CEO to come in, take a look as to where we stand at the position, and then come up with his own ideas," he said.
The bank should free up 4 billion Swiss francs ($4 billion) of capital by shrinking risk-weighted assets at its securities unit by about a third, JPMorgan Chase & Co. analysts Kian Abouhossein and Amit Ranjan, wrote in a note from London. Credit Suisse could also cut investment bank staff by 2,900, or 15 percent, to lower costs, the analysts wrote.
Deutsche Bank has said it will present the results of its strategic review in the second quarter. Unlike Credit Suisse, Switzerland's second-largest wealth manager, Deutsche Bank doesn't have a strong alternative to investment banking, said Lutz Roehmeyer at Landesbank Berlin Investment.
'Emergency Brake'
"Deutsche Bank can't afford to pull the emergency brake and completely exit its trading business," said Roehmeyer, who manages $1.1 billion in Berlin. "They need to get it into a state where they can weather the current market environment, but still be positioned for an eventual pickup."
Jain, 52, and Dougan, 55, followed similar paths in their careers, leading their firms' investment banks before rising to run the companies. Thiam, 52, hasn't led a bank.
Deutsche Bank will make "modest" cuts to the capital-intensive debt-trading business, its biggest source of income, while expanding parts of the investment bank that advise clients on deals and the sale of securities, Jain told reporters on a conference call in January.
The firm's revenue from trading bonds and currencies rose 1 percent to 6.84 billion euros ($7.33 billion) last year, company filings show. The income generated by the nine biggest U.S. and European investment banks from debt trading fell 4.7 percent in the period, data from Bloomberg Intelligence show.
Barclays, RBS
Jain said in January that "it feels like" the exit of European rivals contributed to market share gains in fixed-income trading last year.
Barclays Plc began to shrink its investment bank in May to focus on consumer banking. Deeper cuts are possible after Antony Jenkins, the London-based company's CEO, pledged last week to do "whatever it takes" to increase returns at the investment bank.
Standard Chartered said in January it would eliminate 4,000 positions, while Edinburgh-based RBS may slash as many as 14,000 investment-banking jobs, a person familiar with the matter said last week.
Cutting 14,000 jobs is a "radical" move that Deutsche Bank stands to profit from, Juergen Fitschen, Jain's co-CEO, said last week in Frankfurt. "Those 14,000 bankers aren't just sitting around, they were doing business with clients and those clients will be looking for alternatives."
Deutsche Bank will exit businesses that aren't sufficiently profitable, while remaining international with both investment-banking and consumer-banking units, he said.
'Not Dead'
Jain would run the risk of irking investors if he commits more funds to debt trading, Bongardt said. Credit Suisse shares jumped 7.8 percent on Tuesday, partly on speculation it will retreat from costly trading operations. The stock rose 0.6 percent on Wednesday, while Deutsche Bank gained 1.9 percent.
"I don't think he wants to swim against the stream on this," Bongardt said from Frankfurt. "Times have changed and we're not in the same situation of a couple of years ago when you aggressively went after market share."
While Deutsche Bank does need to scale back in some areas of its debt-trading business, Jain should hold off making the kind of cuts his competitors are pursuing, said Boris Boehm at Aramea Asset Management AG in Hamburg.
"They shouldn't cut too far, because courage can pay off," said Boehm, who helps manage 2.4 billion euros of stocks and bonds. "Despite all the problems in investment banking, the field isn't dead."
Before it's here, it's on the Bloomberg Terminal.
LEARN MORE