Texas Leads U.S. in Gun Confiscations in Airport Security Checks
Meenal Vamburkar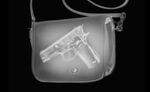 More gun-toting travelers are caught at airports in Texas than in any other state, as inspectors across the U.S. find firearms and ammunition sewn into shirtcuffs and tucked among bags of kitty litter.
Texas saw the most confiscations in 2014, with 424 guns found in screenings, according to Transportation Security Administration data compiled by Bloomberg. Dallas/Fort Worth International Airport, where 120 firearms were found in carry-on luggage, topped the list nationwide. The Lone Star state had a 25 percent increase from the previous year.
Twenty-eight states passed laws easing restrictions on firearms in 2013, the year after a shooting massacre at Sandy Hook Elementary school in Newtown, Connecticut. With all 50 states now allowing people to carry concealed guns, with varying degrees of limitations, more are being forgotten in clothing, holsters and handbags.
Firearm confiscations rose 22 percent from 2013, and June 4 set a record with 18 firearms found. About 83 percent of guns found were loaded. Security officials seized guns at 224 airports.
Firearms were only a portion of contraband seized by airport officials. Other items included a lipstick stun gun and a razor blade in a mobile phone. One passenger hid an 8.5-inch (21.6 centimeter) knife in an enchilada.
Rounding out the top five states for gun confiscations were Florida, Georgia, California and North Carolina. The states and territories with the fewest were Rhode Island, South Dakota and the Virgin Islands.
The Transportation Security Administration screened more than 653 million passengers last year, about 14.8 million more than in 2013.
Before it's here, it's on the Bloomberg Terminal.
LEARN MORE