President Obama's Red-State Streak
His trip to Georgia is the latest in a series of stops this year in states that didn't vote for him.
By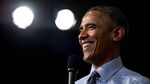 President Barack Obama has been cutting a swath through red-state America in Year 7 of his presidency, and he'll keep going with a stop Tuesday in Atlanta. 
Just about any college campus in the U.S. could have been Obama's backdrop as he speaks about what his administration is doing to help recipients of federal student loans.  But the president's team chose Georgia Tech in Atlanta, a big city with a couple of important attributes:
It's the capital of a (for now) Republican state that Democrats would like to bring into their column. And there's money there. After his speech, the president is scheduled to attend a closed-press Democratic National Committee roundtable with 25 supporters giving up to $33,400, according to a party official.
At the start of the year, Obama spoke on university campuses in red states Idaho and Kansas to reinforce proposals in his State of the Union address and to signal interest in young people in the heartland.  Last month, he chose a community college campus in red-state Indiana to promote his proposal for two free years of community college.
While Obama's visits last week to Columbia, S.C.,  and Selma, Ala., were pegged to mostly black audiences around the 50th anniversary of the Bloody Sunday civil rights milestone, they also gave him  reason to visit two more very red states. Obama is expected to make another red-state stop soon, possibly before the week is out. 
The two states he has yet to visit as president, and is not expected to in the immediate future, also are red states: Utah and South Dakota. 
Why the intensified interest in Republican-controlled states? For one, Obama pledged his intentions to visit all 50 states as president; most of the ones he waited to visit were red. In his first term and the first half of the second term, it was more practical to visit blue or swing states to build support or raise money for his initiatives or Democrats' campaigns.
But this is also about looking forward: Democrats don't want to cede states to Republicans, and as they look ahead to the 2016 elections,  it makes sense for the head of the party to invest some time and energy in connecting with voters there, even if he won't be on the ballot again.
Georgia's demographics have been changing, to the point that Democrats last year thought they had a shot of picking up the U.S. Senate seat being vacated by Republican Saxby Chambliss. They were wrong, but with continued voter registration efforts and in a higher turnout election such as a presidential contest, many Democrats think they could win Georgia within the next couple of cycles.
Marc J. Hetherington, a political science professor at Vanderbilt University, said it's unlikely that Obama's red-state visits will translate to congressional support for his legislative proposals. "I think it's going to be hard for this to have any impact at all," he said. "In this period of polarization, that doesn't seem to work very well. Republicans have learned that obstruction really pays."
And if the president he's aiming to help the next Democratic nominee for president make inroads in a red state where demographic trends are bringing the vote toward a tipping point, Hetherington said he'd bet on Arizona and the Southwest before Georgia and the South.
But Obama also may want to shape his own legacy and "convince red-state voters his ideas are not anathema to the American way of life," Hetherington said. "For the president, I don't think there's any downside at all. Remember the '08 campaign: this wasn't about his being president of the blue states but of all the states. I don't think he's going to win a tremendous number of supporters in red states.
"... The cost is very low. The payoff is likely to be not great. But if you run in part on bringing the whole country together, it's a smart thing to do to visit the whole country."