Lynch Nomination to Replace Holder Coming Up in Senate Next Week
Kathleen Hunter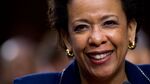 Senate Majority Leader Mitch McConnell said the the chamber would consider Loretta Lynch's nomination to be attorney general next week, even as one of his top lieutenants said the outcome of the confirmation vote was still in question.
"Obviously it's an important position; whether she gets confirmed or not remains to be seen," said South Dakota's John Thune, the Senate's third-ranking Republican. "I suspect, at the end of the day, she probably will."
Some Republicans are opposed to or undecided about whether to support Lynch. Republicans, who have a 54-46 majority in the Senate, have questioned her independence and support of President Barack Obama's immigration policies. McConnell made the comments about timing for the Lynch vote to reporters on Tuesday.
Lynch, 55, is Obama's choice to replace Eric Holder, who has frequently clashed with Republican lawmakers over issues including a law enforcement operation to crack down on gun smuggling on the U.S.-Mexico border and challenges to states' voter-identification laws.
The Senate Judiciary Committee on a 12-8 vote Feb. 26 approved her nomination, with three Republicans joining all nine of the committee's Democrats in favor of Lynch.
In addition to Senators Orrin Hatch of Utah, Lindsey Graham of South Carolina and Jeff Flake of Arizona -- the three Republicans who backed Lynch in committee -- Maine Republican Susan Collins has come out in support of Obama's nominee.
"I found her very impressive and I think she deserves to be confirmed," Collins said in a Tuesday interview. "For those in my caucus who have been upset with some of the decisions made by attorney general Holder, as I have been, the sooner he can be replaced by a career prosecutor, the better off our country will be."
Four Republicans
The backing of four Republicans means Lynch's proponents need at least one more Republican -- or Vice President Joe Biden to break a tie -- if all 46 Democrats, as expected, back Lynch.
Dissenting Republicans said Lynch's answers fell short of assuring them that she would be independent enough to stand up to Obama if she disagreed with him.
While praising her lengthy legal career, they also criticized her for testifying that Obama's actions on immigration were legal. The Justice Department is seeking to overturn a federal judge's decision to block part of Obama's plan to temporarily defer deportations for up to 5 million undocumented immigrants in the U.S.
Senator Richard Burr, a North Carolina Republican, said in a brief interview Tuesday that he will oppose Lynch because he thinks she would further "a reach by the attorney general's office that far exceeds" what he considers proper, on immigration and other issues.
Burr Opposed
"I gave her an opportunity to tell me how the department would be different under her leadership from an agenda standpoint than Eric Holder, and she said that it wouldn't, and I voted against Eric Holder," Burr said. "I feel more comfortable with my vote today than I did when I made it."
Her opponents said they're concerned that Lynch would continue to carry out the initiatives of Holder.
"She looks like she'll be Holder 2.0," Senator Mark Kirk, an Illinois Republican, said Tuesday. Kirk said he'd not made up his mind on how he would vote but that he was not inclined to support her.
Lynch, the top federal prosecutor in Brooklyn, would be the first black woman to serve as the nation's top law enforcement official.
Supervised Cases
Democrats say Lynch, who has served twice as U.S. attorney for the Eastern District of New York and was a front-line federal prosecutor before that, is well-qualified to be attorney general because she supervised cases involving corrupt public officials and terrorists.
They say Republicans have delayed Lynch's nomination for political gain amid the fight over Obama's immigration actions.
"They've gone over her record with a fine-toothed comb, and haven't found a single objection," New York Senator Charles Schumer, the chamber's third-ranking Democrat, told reporters Tuesday. "No one has objected to anything about Loretta Lynch. Her character, her history, what she's done as U.S. attorney. And so now they're coming up with this false argument about immigration."