Italy Court Confirms Berlusconi Acquittal in Sex Case
John Follain and Sergio Di Pasquale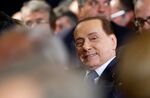 Italy's top court upheld the acquittal of former Prime Minister Silvio Berlusconi on charges of paying for sex with an underage nightclub dancer and abusing his power to cover up the case.
Berlusconi, 78, had been acquitted by an appeals court in July 2014 of paying a 17-year-old Moroccan for sex, and of abuse of power to obtain her release after she was arrested on suspicion of theft. The top court rejected prosecutors' appeal to annul the 2014 ruling and send the case back to the appeals court.
In the first June 2013 trial, Berlusconi was given a seven-year prison sentence for paying El Mahroug for sex three years earlier and for abuse of office. According to prosecutors, Berlusconi had sex with Karima El Mahroug, the woman at the center of the case and known as Ruby the Heart Stealer, at his 18th century villa in Arcore near Milan.
Berlusconi has always denied all wrongdoing, saying he is persecuted by leftist judges. El Mahroug has denied having sex with Berlusconi.
The reasons for today's ruling will be published at a later stage.
Egyptian President
Addressing the court on Tuesday, prosecutor Eduardo Scardaccione said Berlusconi must have known that El Mahroug was a minor at the time. Scardaccione ridiculed a phone call Berlusconi made, as prime minister in 2010, to a Milan police station after El Mahroug was arrested on theft charges. Berlusconi told a police officer that El Mahroug was the niece of then-Egyptian President Hosni Mubarak, according to prosecutors. Scardaccione said the call "is worthy of a Mel Brooks film and the whole world has had a laugh about it."
Franco Coppi, one of Berlusconi's defense lawyers told the court that he was not denying that "acts of prostitution" took place at the villa but added there was no proof that Berlusconi knew El Mahroug was a minor. Coppi rejected the claim that Berlusconi had pressed for her release from custody.
Political Decline
Berlusconi's political standing has waned as he is plagued by divisions inside his Forza Italia party and judicial cases involving his personal life and business interests. He has announced that his Forza Italia party may no longer back Prime Minister Matteo Renzi's reforms.
Berlusconi is instead seeking to forge a new alliance with the Northern League of Matteo Salvini, which campaigns on an anti-euro, anti-immigration platform.
In a separate tax fraud case, Berlusconi completed 10 months of community service at a hospice near Milan last week after judges commuted a four-year prison sentence. The media mogul helped patients suffering from Alzheimer for four hours every Friday.
With Berlusconi under darkening legal and political clouds, his family betrayed its concern. On the eve of the verdict his brother Paolo, who owns the conservative newspaper Il Giornale, urged his brother not to abandon politics.
"Never. I would just like to see him enjoy these years serenely. Never pull out, because he is a fighter and he must die a fighter," Paolo Berlusconi said at an exhibition in Milan about Gandhi.
Before it's here, it's on the Bloomberg Terminal.
LEARN MORE