Hillary Clinton's Long, Cautious Record on Women's Rights
The former secretary of state has been both criticized and praised for her efforts to help women around the globe.
By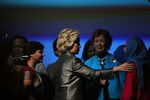 The early reviews of Hillary Clinton's tenure as secretary of state were not so unlike the "texts from Hillary" portrait of her as a superhero in sunglasses, dishing out more good lines than Downton Abbey's Dowager Countess.
"She is, it seems, everywhere at once,'' declared Newsweek in 2011, "crossing time zones and defying jet lag." That same year, Google's Eric E. Schmidt called her "perhaps the most significant secretary of state since Dean Acheson, who helped unify the relationship between modern Europe and the United States."
After John Kerry succeeded Clinton, though, that assessment was downgraded in a hurry. Late in 2013, the New York Times reported that "some people close to Mrs. Clinton worry that, because of the high profile given to her work for women's rights, and the headlines now being generated by the hyperkinetic Mr. Kerry, her efforts on trickier diplomatic situations have been eclipsed.'' Where was the credit for her great work on Libya, for instance?
A year and change later, no one is highlighting Clinton's legacy on Libya. But now, as she's by all appearances gearing up for a second presidential run, even her record on women is getting a second look.
Republicans like her potential rival Carly Fiorina argue that it's beyond hypocritical for Clinton to present herself as a champion of women while the Bill, Hillary & Chelsea Clinton Foundation accepts major donations from Saudi Arabia and other countries with pitiful records on that front.
Another knock on her résumé on women and girls is that there isn't much to ballyhoo, unless ballyhooing can itself be counted as an achievement.
"What exactly are her grand accomplishments on behalf of women?" asked Danielle Pletka, a longtime aide to the Senate Committee on Foreign Relations, now at the conservative American Enterprise Institute.  "I'm really impressed with how she turned around Saudi Arabia,'' Pletka added facetiously. "She doesn't do much more than talk.''
Talking isn't nothing; on the contrary, it's what diplomats do. And presidents, whom we expect to forcefully wield that bully pulpit. And even journalists, whose only tools are words.
Still, whether she talked enough, forcefully and when it mattered, is a fair question.
Melanne Verveer, a longtime Clinton aide and the first U.S. ambassador for global women's issues, dismissed the criticism over donations: "This is so patently absurd, that this undermines her record as a women's advocate.''
Verveer's former office was a relative backwater in the George W. Bush and Bill Clinton administrations; in those days, it focused on special projects. Then President Obama and Hillary Clinton elevated it by giving its chief the rank of ambassador, and requiring that the advancement of women be integrated into all of the State Department's work. In particular, Clinton focused on the nexus between women's participation and economic growth and protecting women in conflict areas.
"If evidence means anything,'' Verveer said, "one should look at her record at the State Department and beyond."
Certainly, one should, and particularly beyond the State Department, that record is mixed. In Clinton's private life, referring to Monica Lewinsky as a "narcissistic loony toon" was perhaps none too surprising, but also none too sisterly. Nor was the way she spoke about her successful 1975 defense of a man she seems to have believed was guilty of raping a 12-year-old girl in an audio-taped interview posted by the conservative news site Washington Free Beacon last June.
Among the strongest anecdotes in her favor, from her time as secretary of state, comes from "HRC: State Secrets and the Rebirth of Hillary Clinton." In it, Bloomberg's Jonathan Allen and his co-author Amie Parnes report that Clinton ignored security concerns to visit refugees in the Democratic Republic of Congo in 2009 and meet with survivors of sexual assault.
While on vacation that summer, according to friends and aides, Clinton fired off a raft of e-mails—from her personal account—to get the department focused on the matter. Then she dispatched a couple of her aides to see what could be done to make it harder for warlords to use assault as a weapon of war and to warn camps of imminent invasions. 
Those efforts ultimately fell short, due to legal hurdles and non-cooperation from the Congolese government. But Clinton's personal involvement—and, according to close friends, personal anguish—convinced them that protecting women from violence was important to her.
And to her unalloyed credit, Clinton was one of the forces behind the adoption of a U.N. resolution adopted later that year that laid out guidelines for international response to sexual assault in war-torn areas.
In all of the following cases, though, one could either argue that she moved slowly and acted cautiously—or that living to fight another day was a lot smarter than setting herself on fire.
Her former friend and Rose Law Firm colleague Webb Hubbell, who later went to jail for overbilling clients, wrote in his 1997 memoir Friends in High Places that when they worked together in Little Rock, she used to urge him and Vince Foster to address sexual harassment and a pay gap between men and women in the office. "She knew she couldn't raise those issues,'' Hubbell wrote, "so she encouraged us to.''
As first lady, her 1995 speech at the Fourth World Conference on Women in Beijing arguing that "it is no longer acceptable to discuss women's rights as separate from human rights" was both lauded for its boldness and derided as too meek because it didn't call out China by name.
A decade later, after John Kerry told friends that he thought he lost the presidential race over the abortion issue, she was criticized by some of her fellow abortion rights supporters when she stunned a gathering of them by suggesting that they should look for "common ground" with opponents. Two cycles before the "war on women" again reversed her party's course, she was prodding them to welcome dissenters back into the tent by focusing on trying reduce the number of abortions, which she described as a "sad, even tragic choice to many, many women."
In each of those cases, she took a calculated risk, with a specific, achievable goal in mind. And it's because that's the route she chose that there's such a long record to sift through.