Hillary Clinton Plans to Meet Reporters on Tuesday
Her team hopes to address the e-mail controversy and then, move on.
By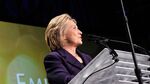 Hillary Clinton will take questions from reporters on Tuesday, as she tries to push back and ultimately move on from scrutiny of her use of a private e-mail address during her time as secretary of state.
Clinton's news conference will take place after she speaks at 1:30 p.m. at a United Nations summit on women's rights, spokesman Nick Merrill said Tuesday. 
Clinton has faced questions about her reliance on a personal e-mail account for more than a week and while her aides had wanted to wait to have her respond, they've since decided that the only way to diminish scrutiny is for her to offer an explanation and, they hope, move on.