GE's Immelt Earns $37 Million for 2014 After Business Revamp
Richard Clough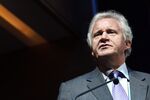 General Electric Co. Chief Executive Officer Jeffrey Immelt's compensation almost doubled in 2014 to $37.3 million as his pension soared and he signed the company's largest-ever acquisition.
Immelt's pay included a $5.4 million bonus, and his base salary rose 8.2 percent to $3.8 million, GE said Tuesday in a filing with the U.S. Securities and Exchange Commission. His pension drove an 88 percent surge in his total pay. Excluding the change in value, he earned $18.9 million, GE said.
The raise, Immelt's second since 2005, reflects GE's "unprecedented actions in 2014 to reshape its portfolio to focus on higher-value earnings from core infrastructure businesses," the company said. Fairfield, Connecticut-based GE had increased Immelt's base salary 6 percent for 2013.
In 2014, Immelt, 59, oversaw agreements for the 12.4 billion euro ($13.5 billion) acquisition of Alstom SA's energy business and the sale of GE's appliances division. The company also held an initial public offering for its North American consumer-lending unit as Immelt seeks to shrink the finance business that imperiled GE during the financial crisis.
GE fell 9.8 percent in 2014, trailing the 11 percent rally for the Standard & Poor's 500 Index. This year, GE is down 0.4 percent compared with a 0.7 percent drop for the S&P 500. GE said it canceled some performance-based stock awards and options granted to Immelt in 2009 and 2010 after failing to meet the underlying share-price and financial goals.
Immelt's realized compensation, or income reported to the U.S. Internal Revenue Service, was $9.6 million.
Last week, a Barclays Plc report suggested Immelt could be nearing the end of his tenure as CEO. He has been in the role since September 2001.
Before it's here, it's on the Bloomberg Terminal.
LEARN MORE