Firefighters' Union President on Hillary 2016: 'It's Not Done Until It's Done'
International Association of Fire Fighters president Harold Schaitberger and several members watched Clinton's e-mail press conference at a hotel bar.
By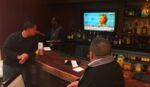 On Wednesday afternoon, as former Secretary of State Hillary Clinton prepared to address the United Nations and then a press scrum, International Association of Fire Fighters president Harold Schaitberger was questioning her inevitability.
"I just don't take any of this like it's done," said Schaitberger. "It's not done until it's done."
Eight years ago, the last time Democrats held a competitive primary to pick their presidential nominee, the International Association of Fire Fighters summoned all of the candidates to Washington to give speeches to their members.  A hall full of union members heard them all—Hillary Clinton, Barack Obama, John Edwards. A few months later, the IAFF made its choice... and got behind Connecticut Senator Chris Dodd.
That quixotic choice did not echo in Iowa, the only state where Dodd fully competed. This year, three of the likely 2016 Democratic primary candidates made it to the forum: Vermont Senator Bernie Sanders, former Virginia Senator Jim Webb, and former Maryland Governor Martin O'Malley. O'Malley even got a surprise standing ovation when he attacked the  Republican speakers at the forum for refusing to make a "commitment to collective bargaining." Massachusetts Senator Elizabeth Warren, whose frequent insistence that she won't run has not calmed down several presidential draft campaigns, spoke on Monday alongside other legislators who are not running for the White House. (Vice President Joe Biden also spoke on Monday.)
Clinton, meanwhile, was in New York. Schaitberger refused to question her scheduling decision, and in conversations, it was hard to find an IAFF member who was offended by that. "It's important for her to be at the UN, I guess," said Ricky Walsh, the leader of the northwestern 7th district of the union. "And I don't give a shit about the emails."
Still, Walsh had a candidate:
So Clinton's absence avoided any score-sheet comparisons with other Democrats. That might have helped her. The desire for the Democrats, somehow, to be brought around on labor's preferred issues still hung over the conference. Washington Post columnist Dana Milbank, in a dispatch from Monday's speeches, found multiple union members struggling to get enthusiastic about Clinton. In their speeches, O'Malley, Sanders and Webb talked about first responders and struggling workers being ignored or disrespected by the political elites.
"Union membership has too often been vilified and misunderstood," Webb said, after holding up his own union card.
"We must expand—and not reduce—Social Security benefits," said O'Malley. "If a bank is too big to fail without harming the common good of our nation, then it's too big, and we must break it up before it breaks us."
"It comes comes to whether or not our kids can go to college," said Sanders, "whether we're gonna make it easier for workers to join unions, whether or not we're gonna have a trade policy which creates jobs in this country or whether it creates jobs in China."
While Clinton was responding to a scandal, three potential rivals were talking about what the next president needed to do. They were shifting the bounds of debate in a way that Clinton hadn't, or hadn't taken a chance to.
At his post-game press conference, after he pronounced his own skepticism of an inevitable Clinton nomination, Schaitberger explained that he had been surprised before. In 2003, for example, his union backed John Kerry for president. At the time, Kerry looked like an also-ran.
"Howard Dean was the nominee, remember?" said Schaitberger. "That was it—he was going to be the nominee, that was where all the energy and excitement was. And how did that work out? We went into 2008, and it was then-Senator Hillary Clinton. She was the nominee. And then comes this two-year United States senator from a community, from a demographic, where people thought early on—is this for real?"
An hour and a half later, and after a lengthy delay, Clinton gave a 21-minute press conference about the emails. Dozens of IAFF members were gathered and talking in the bar of the Hyatt hosting their conference; a bartender turned up the audio on one TV, and half a dozen members started listening. They were not about to call the election, but they didn't appreciate the media pile-on of the Democratic frontrunner. One man, explaining how it was normal for people to route multiple emails to one account, requested that he not be quoted. He was irritated that the Washington Post had written five stories about Clinton just yesterday, instead of covering anything IAFF was concerned with. The men around him were growing just as tired of the way the Democratic primary was covered.
"Do you think they'd be asking her this if she was a middle aged man?" asked Joe Kerr, an IAFF member and former local leader from Orange County, watching Clinton answer a question about email servers. "President Obama had a Blackberry, remember? Was that secure? Nobody cared. The media didn't beat him up about it."