Clinton's E-Mail Defense Asks Public to Trust Without Verifying
Mark Drajem and Chris Strohm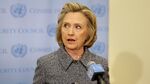 Hillary Clinton says she's turned over to the State Department all of her work-related e-mails and that her communications were secure during her time as secretary of state.
"I have absolute confidence that everything that could be in any way connected to work is now in the possession of the State Department," she told reporters Tuesday. "And there were no security breaches."
The truth is, analysts say the public may simply have to take her word for it.
Without an independent audit of the server Clinton set up on her Chappaqua, New York, property, there's no way to know if it was hacked, security analysts say. And, while Clinton told reporters that she turned over any e-mails related to her work, she balked at an outside review and argued that the choice of what is a public record is hers alone.
State Department officials say Clinton is correct in saying she had the authority to choose what's a personal e-mail and what's a work e-mail, and turn over only the work e-mails to the department. Open government advocates say that's not exactly what the policy anticipated.
"I'm not sure the law envisions that at her level people can decide what's a record, and what's not," said Patrice McDermott, executive director of OpenTheGovernment.org, a Washington-based coalition that works to make more government records public. "What didn't get selected?"
Deleted E-Mails
Clinton, who was secretary of state from 2009 until February 2013 and is preparing a presidential campaign, said she turned over paper copies of 30,490 e-mails relating to government business from her tenure. Another 31,830 personal messages -- including yoga routines and condolence messages -- were deleted.
Ken Westin, a security analyst with Tripwire Inc. based in Portland, Oregon, said she should allow an audit to examine logs to determine if there was any unauthorized access to the server, malware or suspicious connections.
"There's really no way for her to identify if she was hacked or not without having somebody audit that server," Westin said.
Other unanswered questions include whether she had security help to monitor the server, who else had access to the server and e-mails, and whether anybody with access to the server was hacked, Westin said.
"You can't just simply say trust us, it's secure," he said.
Server Security
Clinton declined to describe the security precautions that were taken, other than to say the server was on property guarded by the U.S. Secret Service. All former presidents and first ladies have Secret Service protection for life.
While secretary, she was protected by a State Department detail.
The security details are primarily interested providing the physical security of their charges, but will provide guidance on best practices to protect their financial and personal data, a U.S. law enforcement official said.
The official described such protection for former presidents and first ladies as being done with a light touch. When Clinton was secretary, it would have been up to the State Department to ensure her at-home network was secure enough to use for work.
Republican Representative Trey Gowdy, chairman of a House committee investigating the 2012 attacks on the U.S. compound in Libya, called for an independent audit to go through Clinton's private e-mails to ensure that those she didn't release don't contain any public business.
'Neutral' Arbiter
Gowdy in a statement said Clinton should turn over the server to a "neutral, detached, third-party arbiter who can determine which documents should be public and which should remain private." Gowdy said the committee would seek testimony from Clinton on her e-mail.
Outside analysts say there is murkiness about how e-mails are saved and reviewed as part of the practice of keeping them to satisfy open-records requests, subpoenas or the historical archives. More recently, software would capture all the e-mails of a cabinet secretary and automatically save them. That wasn't necessarily the case when Clinton was in office, said Miriam Nisbet, the former head of the open records office at the National Archives.
"There is a much greater awareness now about trying to use technology to capture e-mails of the highest-ranking officials," she said.