Bond Traders Unnerved as Laborers Scoff at $159 Pay Raise
Sebastian Boyd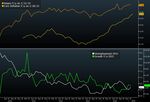 Gaston Munoz, a 42-year-old building contractor in Santiago, has only been able to hire four of the 14 additional laborers he needs for an office renovation.
That's even after boosting the amount he offered to pay each worker by 100,000 pesos ($159) a month, or a 22 percent increase. Now, he has to decide whether to raise wages again, and wipe out his share of the profit on the $6 million project, or risk a lawsuit for missing the deadline in his contract.
"I have to offer all the money I have and even then we come out behind," he said by telephone. "I need 14 people and have been trying to recruit for two weeks. If people don't arrive, I am going to have to keep increasing pay. Clearly I'm going through a crisis."
Munoz isn't alone in his predicament. Wages in Chile are rising by the most in almost five years, helping keep inflation above the central bank's target and curtailing policy makers' ability to cut interest rates to revive a sluggish economy.
It also has bond traders bracing for faster consumer price increases. Their 10-year cost-of-living expectations have now jumped 0.42 percentage point from an 18-month low Jan. 20 to 3.11 percent, closest to the highest since April 2012, data compiled by Bloomberg show.
'Careful Monitoring'
"The strength of the labor market is getting into inflation," David Rees, an economist at Capital Economics Ltd. said by telephone from London. "We had been expecting a couple more rate cuts, but we took them out. The lack of rate cuts means the rebound won't be as strong as it would have been."
Central bank President Rodrigo Vergara has kept Chile's benchmark borrowing costs unchanged at 3 percent for four straight months to combat price increases.
"Unemployment has had a curious evolution," President Michelle Bachelet said Tuesday in an interview at her office in Santiago. She said increased public investment would help job creation this year, and highlighted government plans to train 300,000 women and 150,000 young people.
While annual inflation slowed to 4.4 percent in February, it's still above the bank's goal, which is 3 percent, plus or minus one percentage point. Core consumer prices are rising at the fastest pace since 2009.
"The impact of salaries on inflation will require careful monitoring in coming months," a central bank board member said in the minutes of the bank's last meeting on Feb. 12.
Government Hiring
The bank ruled out rate cuts because inflation is too high while one policy maker even suggested an increase in borrowing costs may be needed in the future.
Wages rose 7.1 percent in January from a year earlier, approaching the fastest since 2009. The unemployment rate is now 6.2 percent, with fewer people out of a job in Chile today than during the boom years of 2010 and 2011.
All this job creation is taking place in the wake of a slowdown that pushed economic growth in the world's biggest copper exporter to 1.7 percent last year, the weakest since 2009, according to the central bank's estimate.
Jorge Selaive, the chief economist at Banco Bilbao Vizcaya Argentaria Chile, says the job losses fueled by a weak economy are being largely offset by a hiring pickup in government workers.
Wage Boost
Teaching, health, social services and the public sector accounted for all of the 88,000 increase in employment in the 12 months through January. The increased hiring comes as President Michelle Bachelet has been boosting spending as part of her effort to stoke growth in the Andean nation.
"Job destruction on the margin is being offset by job creation in agriculture and also by the increase in public-sector employment," Selaive said by telephone. "That's why job destruction has been so slow, but there are signs of it appearing in the last quarter."
He predicts the unemployment rate will rise above 7 percent as soon as July. That will help inflation slow to 2 percent by the third quarter, allowing the central bank to start cutting rates, Selaive said.
The relief can't come fast enough for Munoz.
He's already given up two-thirds of the potential profit on the office-renovation contract by increasing the monthly pay to 550,000 pesos ($875) from the average of 450,000 peso he's budgeted.
"It's very hard to find qualified labor and at the right price," Munoz said. "Only when there's a lack of employment do people agree to accept less money."
Before it's here, it's on the Bloomberg Terminal.
LEARN MORE