Beware of Apple Bond Sales: Company Has Knack for Calling a Top
Lisa Abramowicz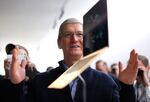 Apple Inc., as it turns out, knows the bond market too.
The company has an uncanny ability to raise money in debt markets right before interest rates go up. That means buyers are often left with losses.
Take the iPhone maker's $6.5 billion debt sale on Feb. 2. Those notes have already lost more than $230 million of value through Monday. And remember the company's record-breaking $17 billion bond sale in April 2013, sold just three days before Treasury yields began the biggest two-month surge in a decade?
"When they decide to go to market, they're watching for whenever there's a potential inflection point forming," said Jody Lurie, a corporate credit analyst at Janney Montgomery Scott LLC in Philadelphia. "They have a feeling that something's going to happen."
The reason for the decline in Apple's bonds isn't a repudiation of the Apple Watch's success or the company's ability to come up with new products. Instead, it underscores the risks investors are taking in a market that's become about the most sensitive ever to moves in U.S. government debt yields.
U.S. Treasuries have declined 2.7 percent since the end of January, with notes maturing in more than 15 years falling 8.8 percent, according to Bank of America Merrill Lynch index data. The $2 billion of 30-year notes that Apple sold last month have fallen to 92.2 cents on the dollar from 99.1 cents at issuance.
Apple's Luxury
More generally, Apple's dollar-denominated bonds have lost more than 3 percent since the end of January, compared with 1.8 percent of losses on Bank of America's index of U.S. investment-grade corporates.
With plenty of cash on its balance sheet, Apple certainly doesn't need to borrow extra money to support its business. Instead, it has the luxury of waiting until yields get so low that the top-rated company would practically be financially irresponsible not to borrow money.
The company doesn't even have to use the proceeds to invest in new products or pay back existing debt; Apple can simply funnel the cash raised from bond buyers to boost returns for its stock holders, namely by repurchasing shares. Indeed, as bondholders suffered losses since January, the company's stock soared more than 8 percent.
As yields go lower on all corporate debt, investors are taking a bigger gamble that benchmark rates will stay low for a longer period of time.
"Rates are so low that ultimately, what are investors going to get out of it at the end of the day?" Lurie said.
On $6 billion of new Apple bonds, nothing but losses so far.