Barnes & Noble Profit Misses Estimates as Breakup Looms
Allison Prang and Lauren Coleman-Lochner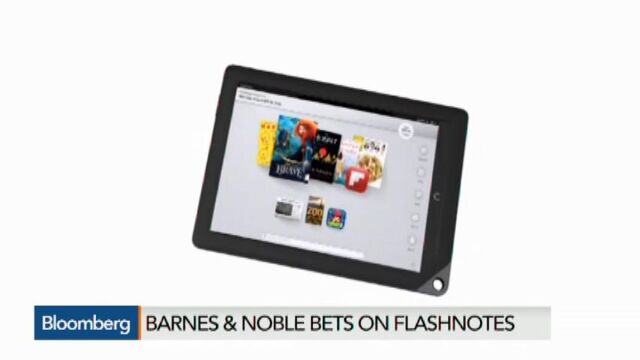 Barnes & Noble Inc., the biggest U.S. bookstore chain, dropped the most in almost 11 months after quarterly profit missed analysts' estimates.
Third-quarter net income rose to $72 million, or 93 cents a share, from $63 million, or 86 cents, a year earlier, the New York-based retailer said in a statement on Tuesday. Analysts had predicted $1.41 on average, according to data compiled by Bloomberg.
The results underscore the challenges facing Barnes & Noble as it prepares a breakup. The company announced plans last month to separate its college-bookstore business from the main retail chain and Nook e-reader unit, a move that's slated to be completed by August. The spinoff would still leave the company with two very different entities: the money-losing Nook division and a bookstore chain that's still profitable but struggling to compete with e-commerce sites.
Barnes & Noble shares fell 10 percent to $22.36 at the close in New York, the biggest one-day drop since April 2014. The stock is down 3.7 percent this year.
The spinoff is meant to help Chief Executive Officer Michael Huseby focus on the company's retail chain, where he's adding toys, gifts and other merchandise to boost sales. He's also been working to improve the performance of the Nook business. Barnes & Noble teamed up with Samsung Electronics Co. in June after a money-losing effort to sell its own e-reader hardware.
Samsung Deal
Samsung now produces devices for the platform, letting Barnes & Noble concentrate on content. After a high-profile debut in 2009, Nook has lagged behind Amazon.com Inc.'s dominant e-reader, the Kindle. Still, the division is losing less money than before. Nook losses decreased 53 percent last quarter, the company said on Tuesday.
The college division, which runs bookstores at more than 700 campuses in the U.S., saw sales climb 7.2 percent last quarter.
Same-store sales for Barnes & Noble's main retail chain gained 1.7 percent in the period, which ended Jan. 31. Analysts had estimated a 1 percent drop, according to Consensus Metrix. Total revenue was $1.96 billion, beating the $1.9 billion that analysts had projected.